Near Unanimity Among the Circuits: Anti-Assignment Provisions are Enforceable
U.S. Courts of Appeals in all but four Circuits have now held that anti-assignment provisions in health insurance plans governed by ERISA are enforceable. In American Orthopaedic & Sports Medicine v. Independence Blue Cross Blue Shield, No. 17-1663, 2018 WL 2224394 (3d Cir. May 16, 2018) the Third Circuit joined the First, Second, Fifth, Ninth, Tenth, and Eleventh Circuit Courts of Appeals in holding that an anti-assignment provision effectively prevents a plan participant from assigning her right to sue for benefits under ERISA to a third party.
The provider in this case, American Orthopaedics, charged $58,400 to perform a shoulder surgery on an individual covered under an ERISA group health plan. The plan's insurers applied the plan's out-of-network limit to the provider's claim and reimbursed only $316 of the claim amount. The provider then pursued the internal administrative appeals process and simultaneously asked the participant to sign an assignment of benefits and limited power of attorney that would allow the provider to pursue a claim under Section 502(a)(1) of ERISA for payment of benefits under the plan. After the insurers denied the appeal, the provider filed suit and the insurers moved to dismiss citing an anti-assignment provision in the plan. The anti-assignment provision stated that right of the member to receive benefits under the plan was personal to the member and could not be assigned to any person, hospital or other entity.
Section 502(a) of ERISA provides that only a plan participant, beneficiary, fiduciary, or the Secretary of Labor have standing to bring a civil action under ERISA. This limitation is often referred to as a "statutory standing" requirement and the limitation seems straight forward enough. Nevertheless, several federal courts have held that a participant may assign the payment of insurance benefits and standing to sue under ERISA to a health care provider that has provided covered services to the participant. The rationale underlying these assignment decisions is that the ability to assign payment rights to a health care provider promotes access to health care by encouraging providers to treat patients without requiring payment in advance.
In recent years, health care providers - particularly out-of-network providers and collection agents purportedly acting on their behalf - have filed lawsuits pursuant to assignments from covered members that attempt to collect a larger share of their fees for service rendered to the member. In response to this increase in litigation, many plan sponsors have included the anti-assignment language in their plan documents in order to prevent participants and beneficiaries from assigning their rights under the plan to a health care provider or any other third party.
After concluding that the language of ERISA Section 502(a) did not conclusively preclude anti-assignment clauses, the Court in American Orthopaedics considered, but did not find persuasive, policy arguments advanced by both the insurers and the provider. Ultimately, the Court looked to the decisions of its sister circuits, which have held that an unambiguous provision in a private contract (in this case the plan document) must be enforced and followed suit. Accordingly, the Third Circuit joined the consensus opinion among several Circuits to hold that an anti-assignment clause in an ERISA health plan should, as a general matter, be enforceable. The Court also rejected the provider's argument that the insurers had waived their right to enforce the anti-assignment provision by failing to raise it as an affirmative defense during the administrative appeals process.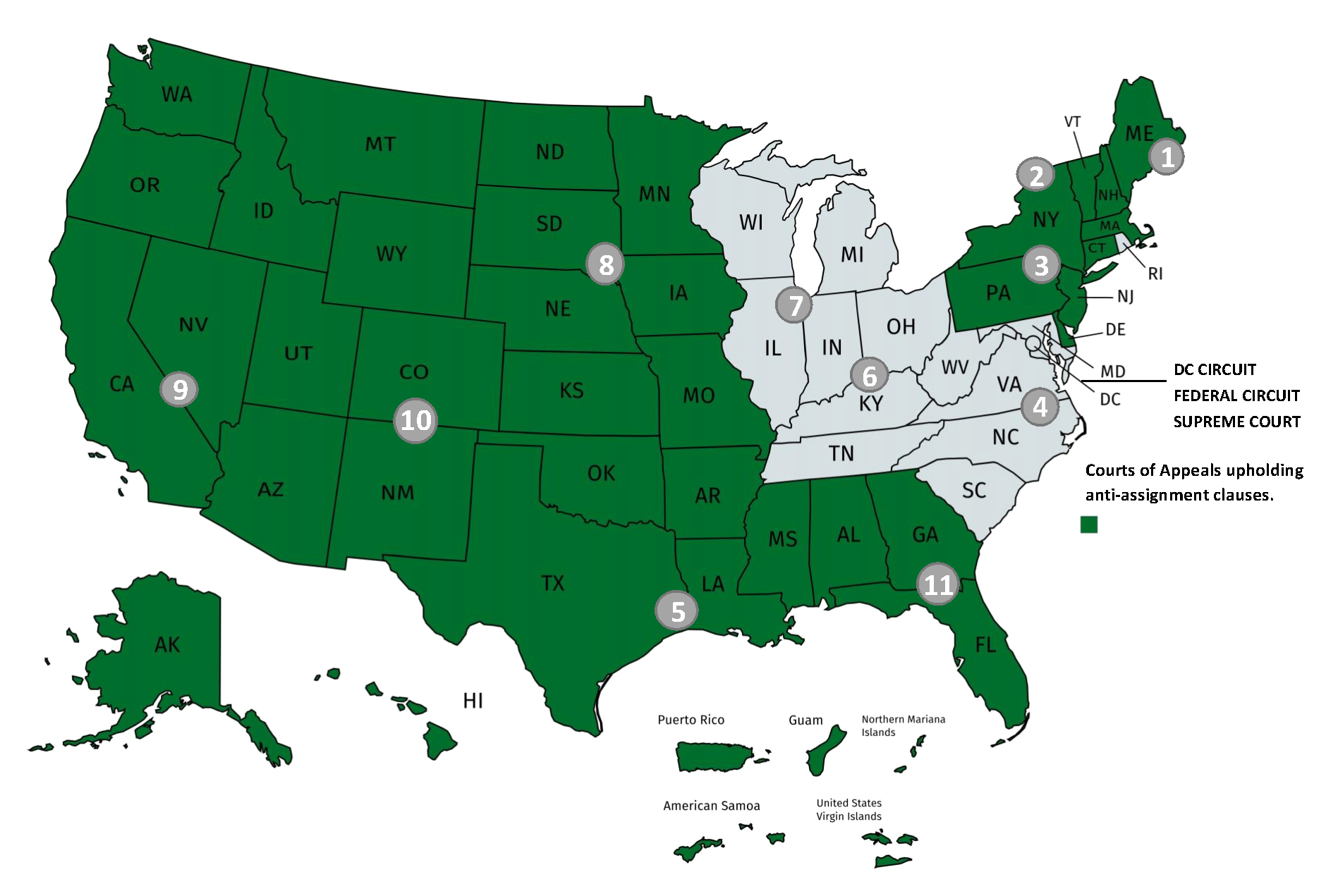 As illustrated above, following the American Orthopaedics decision, a majority of Federal Circuit Courts of Appeal have established strong authority that anti-assignment clauses in ERISA welfare benefit plans will be enforced. Even in the Fourth, Sixth, Seventh, and D.C. Circuits where there is no binding Court of Appeals decision, several District Courts have found that such provisions are enforceable. Accordingly, appropriately targeted anti-assignment provisions designed to limit provider litigation should be incorporated in most welfare benefit plans. The existence of such provisions provides the opportunity to end provider litigation at the motion to dismiss stage, often avoiding costly discovery and subsequent litigation activity.
If you would like additional information about incorporating anti-assignment language into your plan, or general protections against potentially expensive provider litigation, please contact a member of Verrill Dana's Employee Benefits and Executive Compensation group.