Experience
Banking: Establishment of Non-Depository Trust for National Company
Verrill served as special counsel to a national firm in the chartering and licensing of a Maine non-depository trust company as the client's wholly-owned subsidiary. Non-depository trust companies are highly regulated, and the matter involved a complex application process and close work with state regulatory authorities. Establishing the new company also required navigating the federal Dodd-Frank Act, which included ambiguous language that might have prohibited non-depository trust companies. To solve the ambiguity, Verrill worked with members of the US Senate to include a floor colloquy addressing the matter. After nearly a year,, Verrill and the client were able to efficiently establish and license the new nondepository trust company, as well as license the company for operations in the jurisdiction of its principal office.
Banking: Helping Non-Depository Trust Companies Do Business in Other States
Verrill has helped to form more non-depository trust companies in Maine than any other law firm. We have also helped our trust clients when they look to expand their business into other states.
In 2010, Verrill worked with one of its trust company clients to obtain approval to do business in Massachusetts. To obtain that state's approval, we needed to demonstrate that Maine law offered reciprocity to Massachusetts trust companies seeking to do business in Maine. Verrill moved forward to analyze the laws, and upon finding sufficient reciprocity, sought and obtained a letter of support from the Maine Bureau of Financial Institutions. Armed with this letter, the Maine trust was able to obtain approval to do business in Massachusetts.
In 2011, we helped another trust company client obtain approval to do business in New Hampshire. Like Massachusetts, New Hampshire has a reciprocity statute requiring a showing that the home state of the trust company allowed New Hampshire trusts to do business on the same terms as New Hampshire would allow trusts from the home state. We analyzed Maine law through this lens, and determined that Maine law did have reciprocity with New Hampshire law. Several short weeks later, we obtained a letter of support from the Maine Bureau, and received final approval from the State of New Hampshire.
As our clients look to grow and expand, we are pleased to be able to help them meet their goals.
Allagash becomes Maine's First Benefit Corporation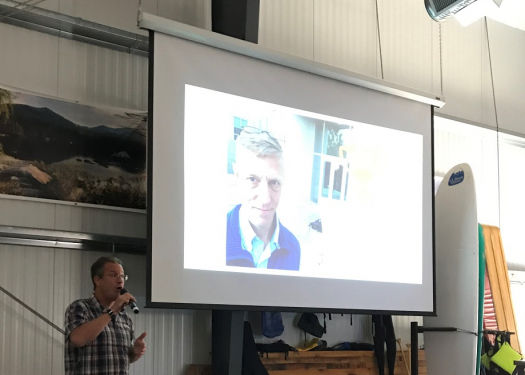 Verrill helped Allagash Brewing Company become Maine's first benefit corporation, filing the brewery's documentation the same morning that the state's benefit corporation statute went into effect. The legal designation of benefit corporation amplifies Allagash's already strong commitment to its community and the environment, and makes the it the 14th brewery in the United States to achieve the status.
A benefit corporation is a for profit entity that, by statute, exists not only to profit its shareholders, but also to benefit the general public in some way. In other words, benefit corporations' directors are permitted by statute to make decisions that are not solely or even primarily in the interest of returning profits to shareholders, but are instead to further some public benefit. For more information and to learn if a benefit corporation is right for you, click here.
Heating Oil and HVAC Systems Acquisitions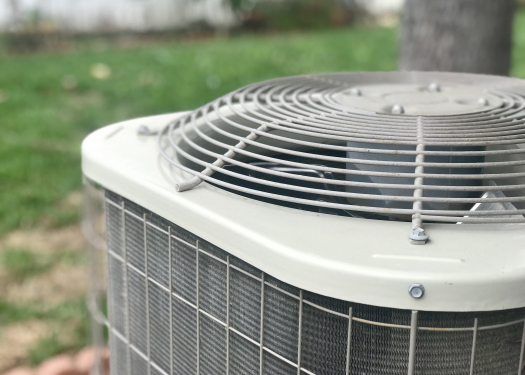 Represented one of the nation's largest providers of home heating oil and HVAC systems in over a dozen acquisitions of home heating oil and equipment providers in recent years in Connecticut, New Jersey, Massachusetts, Vermont, New York and Rhode Island.
Online Education Services Provider Acquisition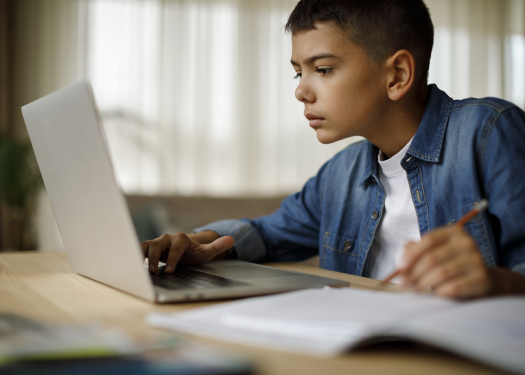 Represented leading provider of online education services in connection with its acquisition of a recognized leader in curriculum, assessment and reporting tools for K-12 students.
Solar Energy: Acquisition of Grid-Scale Project in Brunswick, Maine
Verrill represented Diversified Communications in the acquisition of a newly built $2.5 million solar array in Brunswick, Maine. The array, which was developed by ReVision Energy and went online in January 2018, will provide power to more than 100 businesses at Brunswick Landing. Verrill attorneys advised Diversified Communications on a range of issues in the transaction, including federal debt financing, solar investment tax credits, solar renewable energy credits, electric power sales, EPC contracting, and regulatory, real estate and corporate matters. We worked collaboratively with Diversified Communications and the developer of the project to get the deal done on a short timeline while minimizing investment risk.
Oakhurst Dairy: The Natural Goodness of an Enduring Legacy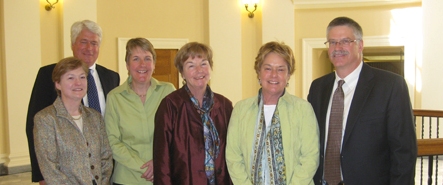 The Bennett Family
L to R: Jean Bennett Driscoll, William P. Bennett, Mary Ellen Bennett Tetreau, Priscilla Bennett Doucette, Althea Bennett McGirr, John H. Bennett
When Stanley T. Bennett opened Oakhurst Dairy in 1921, he laid the groundwork for what would grow to become an iconic multi-generational family-owned business with a reputation for innovation, community service and environmental stewardship. His family successfully ran the business for three generations. In 2013, the family made the decision to sell the company to Dairy Farmers of America, Inc. (DFA), a $12 billion cooperative. A team of Verrill attorneys worked closely with the Bennetts throughout the complex merger negotiations which lasted more than six months and involved multiple potential acquirers. Many legal issues required attention beyond the agreement negotiations, and Verrill had the breadth and depth of experience to take them on. Our team provided counsel relating to federal antitrust review, taxation and benefits issues, intellectual property, environmental permitting and real estate interests.

Oakhurst's numerous dairy products have been a household staple in New England for generations. The Bennett family was thrilled to have the partnership opportunity presented by DFA, with its national presence, complementing culture and values, and financial strength. As a result of the sale, none of Oakhurst's 200 employees lost their jobs, the company will continue to get its milk from the 70 independent Maine farmers who supply Oakhurst's milk, and the integrity of the product will be maintained. Verrill was honored to work with this iconic company in ensuring its legacy will endure and the dairy will remain a vibrant member of the local economy for generations to come.
Counsel to State-Chartered Bank
We served as counsel to a state-chartered bank and its holding company in its receipt of investment by Treasury pursuant to the Capital Purchase Plan for qualified well-capitalized banks, and have advised the bank and the holding company on various regulatory implications of such transactions, such as restrictions on executive compensation.
Eucalyptus Plantation Purchase
We represented the purchaser in the acquisition and financing of a eucalyptus plantation in Hawaii and the negotiation of a biomass supply agreement.
Franchise Representation
Betsy Myers assisted franchisees and franchisors in their review and preparation of the franchise FDD and negotiated the terms of the franchise documents, including the Area Development Agreements. Representative clients include:
Meat House Franchising, LLC
Home Care Assistance
Dairy Queen/Limited Brazier
Fresh City Franchising, LLC
Monster Entertainment, LLC
HeadInvest: Management Buyout
Androscoggin Savings Bank bought HeadInvest, an investment advisory firm, and held it as a wholly-owned subsidiary for many years. It decided that the business was not a good fit for it and agreed to sell the business to the then-existing management. We advised the management group on establishing an acquisition vehicle, negotiating a new lease for office space and in negotiating and closing the deal (including seller financing).
In re Maine Software Developers Association
Verrill represented the Maine Software Developers Association, a technology industry trade group, on a pro bono basis in the wind down of its affairs through chapter 7 liquidation, culminating in the 363 sale of the client's assets.
In re Narraguagus Bay Heath Care, et al.
Verrill represented the Official Committee of Unsecured Creditors in the jointly administered cases of Narraguagus Bay Heath Care and Chandler Bay Group, Inc., two entities that owned and operated nursing homes in Maine. In addition to advising the Committee with respect to the Debtors' financial condition and plan of reorganization, Verrill worked with special labor counsel to the Debtors regarding the negotiation of union labor contracts and assisted in the resolution of a Medicare recoupment dispute.

Following plan confirmation, Verrill was retained to represent the trustee for the unsecured creditors' trust. In this role, Verrill advised the trustee regarding creation and tax implication issues for the trust and engaged in preference litigation on behalf of the trustee.
In re NewPage Corporation
Verrill represented a Maine-based trade supplier in asserting administrative claims against the debtor's estate pursuant to section 503(b)(9) of the Code and favorably resolved the debtor's resulting objection.
In re Smurfit-Stone Container Corporation, et al.
Verrill represented a Maine-based trade supplier in asserting administrative claims against the debtor's estate pursuant to section 503(b)(9) of the Code and favorably resolved the debtor's resulting objection.
J.M. Huber Corporation: Timberland Transactions
We represented our client's timberland division in purchase and sale transactions involving approximately 200,000 acres of timberlands. We negotiated agreements and syndication documentation for acquisition of Maine township; negotiated agreements for sales of large tracts of timberlands.
Multi-Disciplinary Representation in Mill Purchase and Regulatory Compliance
We represented the buyer in the acquisition of Domtar Maine LLC, which owns and operates the pulp mill in Baileyville, Maine (also known as Woodland), and continue to represent the mill in regulatory compliance matters. The mill produces about 395,000 metric tons of pulp a year, and is Washington County's largest employer with about 300 employees. It also has significant hydroelectric generating assets, with surplus power being sold to New Brunswick Power.

Verrill acted as co-counsel with O'Melveny & Myers.
Our representation included extensive due diligence and contract negotiation, and we relied upon our extensive experience in real estate, pension and benefits, labor and employment (several unions are involved with the mill), energy (including FERC), environmental law, commercial finance, tax and intellectual property.
Penobscot River Restoration Trust: Project Management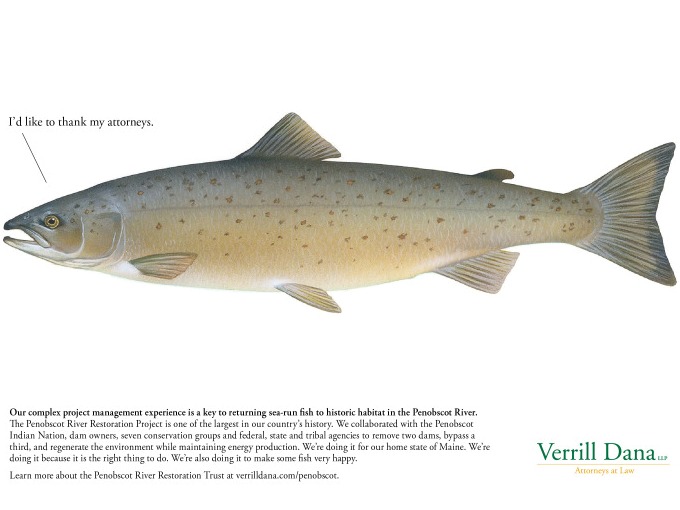 The Penobscot River Restoration Project is one of the largest and most creative river restoration projects in our nation's history. The nonprofit Penobscot River Restoration Trust ("the Penobscot Trust") has worked in collaboration with the Penobscot Indian Nation, seven conservation groups, state and federal agencies, and dam owner Black Bear Hydro Partners LLP, to implement the project to restore 11 species of sea-run fish to the Penobscot River, while also maintaining energy production.* In 2015, the Trust has neared completion of the final stages of this 12-year endeavor. Verrill congratulates all those involved in this historic project.
Successful implementation of the project has revived not only native fisheries but social, cultural and economic traditions of New England's second largest river—the Penobscot. The Penobscot Trust has acquired three Penobscot dams, holds necessary final permits, and is preparing to remove the two closest to the sea – Veazie and Great Works – and construct a fish bypass at the third dam, Howland. At the same time, Black Bear Hydro is, as part of the project, increasing power generation and improving fish passage at several other dams on the river to maintain or increase generating capacity in the system.
Through this reconfiguration of fish migration access and power production, the Penobscot Project has significantly improved access to nearly 1,000 miles of habitat and restore ecological functions of the river while also maintaining hydropower capacity of the river system. Further information regarding this historic project can be found on the Trust's website, www.penobscotriver.org.
Verrill has been pleased to assist the Trust since 2006 with all phases of the restoration project, including drafting of the commercial agreements, national, state and local permitting and regulatory compliance for the decommissioning and removal activities, as well as assistance with strategic planning and dispute resolution. Attorneys from multiple practices, including corporate, real estate, environmental, regulatory, construction, energy and utilities coordinated a multi-disciplinary approach to supporting the Trust's goals and objectives. As a commitment of Verrill to bringing its experience to matters of significant public interest, Verrill contributed extensive in-kind legal assistance to the Penobscot Trust.
* The project has been an uncommonly effective collaboration including PPL Corporation; Black Bear Hydro Partners LLC; Penobscot Indian Nation; the Penobscot Trust, American Rivers, Atlantic Salmon Federation, Maine Audubon, Natural Resources Council of Maine, Trout Unlimited, The Nature Conservancy, federal agencies including the U. S. Department of the Interior [Bureau of Indian Affairs; National Park Service; and U.S. Fish and Wildlife Service (FWS)] and the National Oceanic and Atmospheric Administration (NOAA); the State of Maine including the State Planning Office, Department of Marine Resources and Inland Fisheries and Wildlife; as well as private and public funders; communities; businesses; and numerous others.
Pro Bono Services Provided to Connecticut Nonprofit
Jennifer Kleiner and Cheryl Johnson provided pro bono services to Homes with Hope to handle a transaction between the organization and Project Return, which both have a common mission of providing a wide range of supportive services for adolescents and young women in crisis, including those that are homeless and those at risk of becoming homeless. For many years, Project Return served the needs of these young women under the care of Connecticut's Department of Children & Families through various programs. Due to changes in Connecticut child welfare policies, punctuated by the elimination of funding for long-standing programs, Project Return shifted its focus from serving the needs of adolescent girls and young women in crisis to providing supportive living programs for young women between the ages of 18 and 24 years old. This transaction involved the contribution of Project Return's assets to Homes with Hope so that the programs can continue through Homes with Hope.
Representation of Chapter 7 Trustee: Red Shield Acquisition, LLC
Verrill was selected as counsel to the Chapter 7 Trustee for Red Shield Acquisition, LLC. The first priority in our engagement was successfully securing bankruptcy court approval for the sale of the Debtor's pulp mill in Old Town, Maine under section 363 of the Bankruptcy Code. Verrill accomplished this primary objective in a mere 26 days from our selection as Trustee's counsel. Although the work for the Trustee in this case is on-going, securing approval for the sale of the Debtor's assets this quickly permitted some 200 furloughed employees of the Debtor to return to work before the holidays and permitted this important asset in Maine's economy to be back online as soon as possible.
Sale of Integrated Process Technologies, Inc. to Lewa-Nikkiso America Inc.
Integrated Process Technologies, a Massachusetts based company specializing in the engineering, design, and manufacture of high purity process systems, and its related entities were acquired by LEWA-NIKKISO AMERICA, INC., a US subsidiary of a Japanese public company, based in California. This transaction involved complex issues including patents, proprietary technology with third party rights, environmental and real estate issues, in addition to the typical due diligence matters involved with an acquisition. Verrill's Business & Corporate Group handled the negotiation of the purchase documents, and the firm's Intellectual Property Group advised on all of the patent issues. Verrill's Environmental, Real Estate, Labor & Employment, and Employee Benefits & Executive Compensation Groups also advised.
Sale of Medicaid Managed Care Plan
We represented our client in the sale of assets of a 501(3) tax exempt Medicaid managed care plan to a 501(c)(4) Managed Care Plan.
Our representation of this client involved providing advice throughout the negotiation on corporate, labor, benefits and regulatory issues. Members of Verrill's Labor & Employment, Employee Benefits & Executive Compensation and Health Care Groups worked in conjunction with the M&A Group on the matter.
Sale of Teaching/Community Hospital
We represented this client in the sale of their teaching/community hospital to the teaching hospital of a major university. Our client has annual sales over $500 million. An interesting aspect of this matter is that it involves the sale of a Catholic institution to a secular academic medical center, while maintaining the Catholic heritage on the client's site.

We are representing our client on corporate, Catholic, employee benefit and related issues. Verrill's Labor & Employment, Bankruptcy, Employee Benefits & Executive Compensation and Health Care Groups are working in conjunction with the M&A Group on this matter.
The VIA Group, LLC
We wish we could claim to possess the creative spark of our client, Via. They develop marketing and advertising campaigns and even new brand names for an impressive list of household brands, like Welch's® and Maidenform®. But they need our legal creativity too. In addition to helping screen for potential intellectual property conflicts, we help them negotiate contracts with their clients that allow the client to use the materials Via develops without stifling Via's creativity.