Experience
Discrimination Defense
We successfully defended a large aviation ground handling service company against claims of violation of the ADA and the FMLA—garnering summary judgment in their favor.
Discrimination Defense
We successfully defended a regional hotel chain against administrative claims of ADA and MHRA disability discrimination.
Former Employee's Defamation Claim
After a national telecommunications company was sued for slander per se by a former employee, the firm's motion to dismiss was granted resulting in the dismissal of the claim.
Wage & Hour
Forcing the Commonwealth of Massachusetts to provide clarity as to exemptions under state wage and hour laws, we successfully achieved summary judgment in a class action brought against a national explosives company.
Oakhurst Dairy: The Natural Goodness of an Enduring Legacy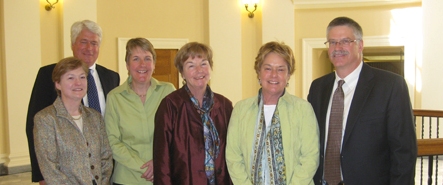 The Bennett Family
L to R: Jean Bennett Driscoll, William P. Bennett, Mary Ellen Bennett Tetreau, Priscilla Bennett Doucette, Althea Bennett McGirr, John H. Bennett
When Stanley T. Bennett opened Oakhurst Dairy in 1921, he laid the groundwork for what would grow to become an iconic multi-generational family-owned business with a reputation for innovation, community service and environmental stewardship. His family successfully ran the business for three generations. In 2013, the family made the decision to sell the company to Dairy Farmers of America, Inc. (DFA), a $12 billion cooperative. A team of Verrill attorneys worked closely with the Bennetts throughout the complex merger negotiations which lasted more than six months and involved multiple potential acquirers. Many legal issues required attention beyond the agreement negotiations, and Verrill had the breadth and depth of experience to take them on. Our team provided counsel relating to federal antitrust review, taxation and benefits issues, intellectual property, environmental permitting and real estate interests.

Oakhurst's numerous dairy products have been a household staple in New England for generations. The Bennett family was thrilled to have the partnership opportunity presented by DFA, with its national presence, complementing culture and values, and financial strength. As a result of the sale, none of Oakhurst's 200 employees lost their jobs, the company will continue to get its milk from the 70 independent Maine farmers who supply Oakhurst's milk, and the integrity of the product will be maintained. Verrill was honored to work with this iconic company in ensuring its legacy will endure and the dairy will remain a vibrant member of the local economy for generations to come.
Associational Disability Discrimination
We represented Morgan Stanley Smith Barney against plaintiff's claims of associational disability discrimination, retaliation for anticipatory use of FMLA and wrongful discharge under New Hampshire common law. The Court granted Summary Judgment to our clients on all four counts.
This case is an excellent example of careful fact accumulation in discovery to persuade a court that no reasonable jury could find the facts necessary to sustain a plaintiff's verdict. While the court did not reach the question of whether it would recognize a claim of anticipatory breach of a party's FMLA rights, having concluded that the jury would not be able to find that the company's legitimate reason for termination was not the real reason, it suggested that it would not permit such a claim where the employee was not yet qualified for FMLA and had not asked for such leave. The court also reaffirmed earlier cases which hold that periods of longer than 2-3 months between the alleged indicator of animus and the adverse action were too long to permit any inference of discrimination. The case is also important to show how a court should properly analyze whether there is sufficient credible factual disputes to permit the case to go to trial, which analysis was made possible by the excellent record keeping of reviews and discipline maintained by the company.
Disability Discrimination Defense
Our attorneys represented a health care provider in a disability discrimination case based on Maine Human Rights Act, Rehabilitation Act and ADA Title III allegations of failure to provide American Sign Language interpreter in context of a medical office visit. This case represented a relatively high profile test case by deaf advocates probing the limits of a health care provider's obligations to provide sign language interpreters for deaf patients.
Independent Contractors
Our attorneys reviewed all benefit plans and advised with respect to Microsoft issues and legal risk with respect to reclassified employees. We also provided legal advice with respect to employment tax issues related to reclassified workers. This matter required careful analysis regarding whether individuals were contractors or employees.
Labor Arbitration/Contract Negotiation
Our attorneys represent one of the world's largest engineering and construction organizations in labor arbitrations in the States of New Jersey and Washington and in contract negotiation with the New Jersey union. As a result of Verrill's representation in this matter, contract negotiations resulted in $2,000,000 in wage and benefit concessions from the New Jersey union.
Multi-Disciplinary Representation in Mill Purchase and Regulatory Compliance
We represented the buyer in the acquisition of Domtar Maine LLC, which owns and operates the pulp mill in Baileyville, Maine (also known as Woodland), and continue to represent the mill in regulatory compliance matters. The mill produces about 395,000 metric tons of pulp a year, and is Washington County's largest employer with about 300 employees. It also has significant hydroelectric generating assets, with surplus power being sold to New Brunswick Power.

Verrill acted as co-counsel with O'Melveny & Myers.
Our representation included extensive due diligence and contract negotiation, and we relied upon our extensive experience in real estate, pension and benefits, labor and employment (several unions are involved with the mill), energy (including FERC), environmental law, commercial finance, tax and intellectual property.
Sale of Integrated Process Technologies, Inc. to Lewa-Nikkiso America Inc.
Integrated Process Technologies, a Massachusetts based company specializing in the engineering, design, and manufacture of high purity process systems, and its related entities were acquired by LEWA-NIKKISO AMERICA, INC., a US subsidiary of a Japanese public company, based in California. This transaction involved complex issues including patents, proprietary technology with third party rights, environmental and real estate issues, in addition to the typical due diligence matters involved with an acquisition. Verrill's Business & Corporate Group handled the negotiation of the purchase documents, and the firm's Intellectual Property Group advised on all of the patent issues. Verrill's Environmental, Real Estate, Labor & Employment, and Employee Benefits & Executive Compensation Groups also advised.
Sale of Medicaid Managed Care Plan
We represented our client in the sale of assets of a 501(3) tax exempt Medicaid managed care plan to a 501(c)(4) Managed Care Plan.
Our representation of this client involved providing advice throughout the negotiation on corporate, labor, benefits and regulatory issues. Members of Verrill's Labor & Employment, Employee Benefits & Executive Compensation and Health Care Groups worked in conjunction with the M&A Group on the matter.
Sale of Teaching/Community Hospital
We represented this client in the sale of their teaching/community hospital to the teaching hospital of a major university. Our client has annual sales over $500 million. An interesting aspect of this matter is that it involves the sale of a Catholic institution to a secular academic medical center, while maintaining the Catholic heritage on the client's site.

We are representing our client on corporate, Catholic, employee benefit and related issues. Verrill's Labor & Employment, Bankruptcy, Employee Benefits & Executive Compensation and Health Care Groups are working in conjunction with the M&A Group on this matter.
Shaw's Supermarket: Decertification Petition
We represented Shaw's Supermarket chain in decertification petition for 1,100 employees covering nine stores in western Massachusetts. The issue was whether or not a decertification petition filed by employees could be effective after the third complete year of a five year collective bargaining agreement. The National Labor Relations Board held that the company did appropriately withdraw recognition of the union based on a petition and an independent verification by an outside accounting firm of the veracity of the signatures and numbers.
This case was part of an ongoing series of cases concerning after-acquired store litigation and automatic recognition through authorization cards. The case is significant because it confirmed a process of decertification through independent verification in order to meet the heightened standard of the certainty of the employees wishing to no longer be represented.