Penobscot River Restoration Trust: Project Management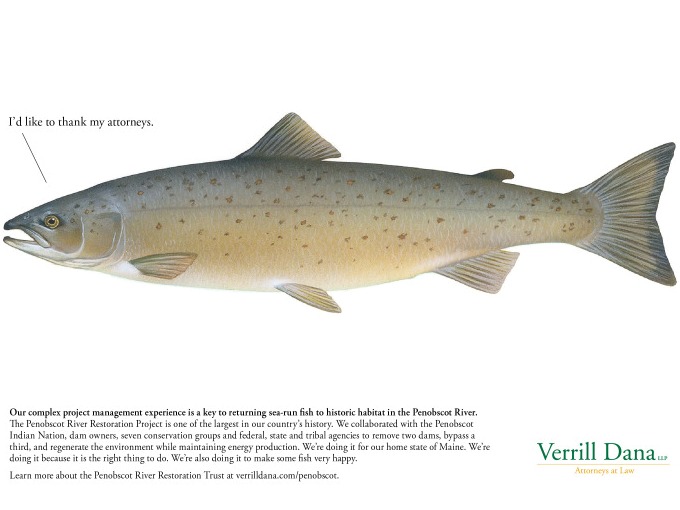 The Penobscot River Restoration Project is one of the largest and most creative river restoration projects in our nation's history. The nonprofit Penobscot River Restoration Trust ("the Penobscot Trust") has worked in collaboration with the Penobscot Indian Nation, seven conservation groups, state and federal agencies, and dam owner Black Bear Hydro Partners LLP, to implement the project to restore 11 species of sea-run fish to the Penobscot River, while also maintaining energy production.* In 2015, the Trust has neared completion of the final stages of this 12-year endeavor. Verrill congratulates all those involved in this historic project.
Successful implementation of the project has revived not only native fisheries but social, cultural and economic traditions of New England's second largest river—the Penobscot. The Penobscot Trust has acquired three Penobscot dams, holds necessary final permits, and is preparing to remove the two closest to the sea – Veazie and Great Works – and construct a fish bypass at the third dam, Howland. At the same time, Black Bear Hydro is, as part of the project, increasing power generation and improving fish passage at several other dams on the river to maintain or increase generating capacity in the system.
Through this reconfiguration of fish migration access and power production, the Penobscot Project has significantly improved access to nearly 1,000 miles of habitat and restore ecological functions of the river while also maintaining hydropower capacity of the river system. Further information regarding this historic project can be found on the Trust's website, www.penobscotriver.org.
Verrill has been pleased to assist the Trust since 2006 with all phases of the restoration project, including drafting of the commercial agreements, national, state and local permitting and regulatory compliance for the decommissioning and removal activities, as well as assistance with strategic planning and dispute resolution. Attorneys from multiple practices, including corporate, real estate, environmental, regulatory, construction, energy and utilities coordinated a multi-disciplinary approach to supporting the Trust's goals and objectives. As a commitment of Verrill to bringing its experience to matters of significant public interest, Verrill contributed extensive in-kind legal assistance to the Penobscot Trust.
* The project has been an uncommonly effective collaboration including PPL Corporation; Black Bear Hydro Partners LLC; Penobscot Indian Nation; the Penobscot Trust, American Rivers, Atlantic Salmon Federation, Maine Audubon, Natural Resources Council of Maine, Trout Unlimited, The Nature Conservancy, federal agencies including the U. S. Department of the Interior [Bureau of Indian Affairs; National Park Service; and U.S. Fish and Wildlife Service (FWS)] and the National Oceanic and Atmospheric Administration (NOAA); the State of Maine including the State Planning Office, Department of Marine Resources and Inland Fisheries and Wildlife; as well as private and public funders; communities; businesses; and numerous others.