Experience
Oakhurst Dairy: The Natural Goodness of an Enduring Legacy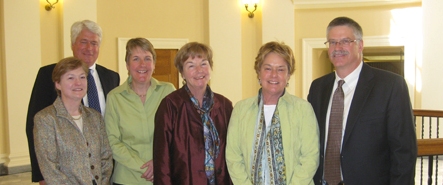 The Bennett Family
L to R: Jean Bennett Driscoll, William P. Bennett, Mary Ellen Bennett Tetreau, Priscilla Bennett Doucette, Althea Bennett McGirr, John H. Bennett
When Stanley T. Bennett opened Oakhurst Dairy in 1921, he laid the groundwork for what would grow to become an iconic multi-generational family-owned business with a reputation for innovation, community service and environmental stewardship. His family successfully ran the business for three generations. In 2013, the family made the decision to sell the company to Dairy Farmers of America, Inc. (DFA), a $12 billion cooperative. A team of Verrill attorneys worked closely with the Bennetts throughout the complex merger negotiations which lasted more than six months and involved multiple potential acquirers. Many legal issues required attention beyond the agreement negotiations, and Verrill had the breadth and depth of experience to take them on. Our team provided counsel relating to federal antitrust review, taxation and benefits issues, intellectual property, environmental permitting and real estate interests.

Oakhurst's numerous dairy products have been a household staple in New England for generations. The Bennett family was thrilled to have the partnership opportunity presented by DFA, with its national presence, complementing culture and values, and financial strength. As a result of the sale, none of Oakhurst's 200 employees lost their jobs, the company will continue to get its milk from the 70 independent Maine farmers who supply Oakhurst's milk, and the integrity of the product will be maintained. Verrill was honored to work with this iconic company in ensuring its legacy will endure and the dairy will remain a vibrant member of the local economy for generations to come.
Counsel to State-Chartered Bank
We served as counsel to a state-chartered bank and its holding company in its receipt of investment by Treasury pursuant to the Capital Purchase Plan for qualified well-capitalized banks, and have advised the bank and the holding company on various regulatory implications of such transactions, such as restrictions on executive compensation.
HeadInvest: Management Buyout
Androscoggin Savings Bank bought HeadInvest, an investment advisory firm, and held it as a wholly-owned subsidiary for many years. It decided that the business was not a good fit for it and agreed to sell the business to the then-existing management. We advised the management group on establishing an acquisition vehicle, negotiating a new lease for office space and in negotiating and closing the deal (including seller financing).
J.M. Huber Corporation: Timberland Transactions
We represented our client's timberland division in purchase and sale transactions involving approximately 200,000 acres of timberlands. We negotiated agreements and syndication documentation for acquisition of Maine township; negotiated agreements for sales of large tracts of timberlands.