Experience
IP Attorneys Help Raise Critical Funding to Support Emerging Businesses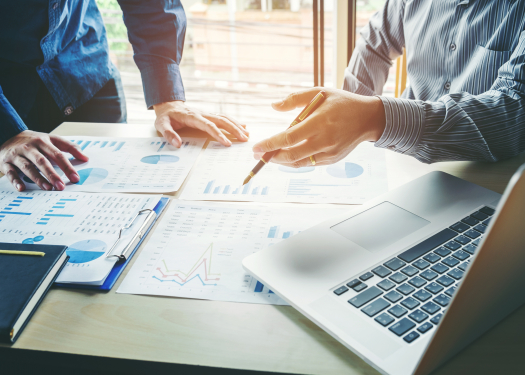 Verrill's IP attorneys quickly established a patent portfolio for a biotech start-up in the competitive CAR T-cell space to support funding efforts.
In addition Verrill supported a Robotics company to develop and execute a strategy to build a significant patent portfolio, which was instrumental in securing over $50 million of funding.
Oakhurst Dairy: The Natural Goodness of an Enduring Legacy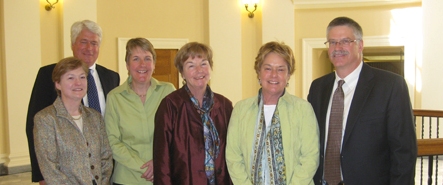 The Bennett Family
L to R: Jean Bennett Driscoll, William P. Bennett, Mary Ellen Bennett Tetreau, Priscilla Bennett Doucette, Althea Bennett McGirr, John H. Bennett
When Stanley T. Bennett opened Oakhurst Dairy in 1921, he laid the groundwork for what would grow to become an iconic multi-generational family-owned business with a reputation for innovation, community service and environmental stewardship. His family successfully ran the business for three generations. In 2013, the family made the decision to sell the company to Dairy Farmers of America, Inc. (DFA), a $12 billion cooperative. A team of Verrill attorneys worked closely with the Bennetts throughout the complex merger negotiations which lasted more than six months and involved multiple potential acquirers. Many legal issues required attention beyond the agreement negotiations, and Verrill had the breadth and depth of experience to take them on. Our team provided counsel relating to federal antitrust review, taxation and benefits issues, intellectual property, environmental permitting and real estate interests.

Oakhurst's numerous dairy products have been a household staple in New England for generations. The Bennett family was thrilled to have the partnership opportunity presented by DFA, with its national presence, complementing culture and values, and financial strength. As a result of the sale, none of Oakhurst's 200 employees lost their jobs, the company will continue to get its milk from the 70 independent Maine farmers who supply Oakhurst's milk, and the integrity of the product will be maintained. Verrill was honored to work with this iconic company in ensuring its legacy will endure and the dairy will remain a vibrant member of the local economy for generations to come.
Appeal of Patent Dispute
Represented a large medical device manufacturer in an appeal of a $250 million jury verdict in patent on grounds concerning ensnarement, lost profits, and the trial court's misunderstanding of the "reverse doctrine of equivalents."
Commercial Health Insurance Product
Our client, a diverse health care company that offers both health plans and primary care services, sought our assistance in developing and implementing an innovative health care benefit product for an association of employers. Toward that end, attorneys at Verrill assisted in creating and licensing a captive insurance company, third party administrator, and preferred provider network. This comprehensive licensing process involved analysis and advice with respect to multiple filings with the Maine Bureau of Insurance; analysis of ERISA and State insurance laws related to enrollee disclosures, plan design, plan document preparation, and plan administration (including policy review); all aspects of intellectual property protection, provider contracting, and network adequacy; and included extensive work surrounding HIPAA and health information technology. In essence, we were intimately involved in building a commercial health benefit plan from the ground up.
Computer Based Banking Patent Dispute
We represented the U.S. division of a large international bank, in both federal District Court and on appeal to the Federal Circuit, in a patent dispute concerning computer-based banking transactions. We prevailed on key claim constructions, won summary judgment, and preserved the victory on appeal.
Copyright Litigation: Software
Defended large manufacturer and reseller of telecommunications equipment against copyright infringement, breach of contract and misappropriation of trade secret claims involving Simple Network Management Protocol (SNMP) in numerous cases filed in U.S. District Court for the District of Delaware and U.S. Bankruptcy Court for the District of Delaware; was responsible for the day-to-day conduct of all cases, took and defended numerous fact and expert depositions, and was instrumental in filing summary judgment and Daubert motions, as well as numerous other pretrial motions; all cases were settled within days of trial of lead case.
Medical Device Patent Dispute
We represented a large medical device manufacturer in a six-patent dispute involving nearly a dozen accused devices for thoraco-lumbar spinal fixation. We prevailed on every single Markman claim construction and then won at trial.
Multi-Disciplinary Representation in Mill Purchase and Regulatory Compliance
We represented the buyer in the acquisition of Domtar Maine LLC, which owns and operates the pulp mill in Baileyville, Maine (also known as Woodland), and continue to represent the mill in regulatory compliance matters. The mill produces about 395,000 metric tons of pulp a year, and is Washington County's largest employer with about 300 employees. It also has significant hydroelectric generating assets, with surplus power being sold to New Brunswick Power.

Verrill acted as co-counsel with O'Melveny & Myers.
Our representation included extensive due diligence and contract negotiation, and we relied upon our extensive experience in real estate, pension and benefits, labor and employment (several unions are involved with the mill), energy (including FERC), environmental law, commercial finance, tax and intellectual property.
Patent & Trade Secret Litigation: IT Infrastructure Software
Represented large provider of IT management solutions in lawsuits in U.S. District Courts for the Eastern District of New York and the Northern District of California against competitor alleging infringement of patents relating to object code instrumentation and misappropriation of trade secrets; took the lead in discovery matters, argued several Daubert motions in court and participated in successful settlement negotiations of all matters shortly before trial.
Patent Litigation: Speech to Text Software
Represented company that developed speech-to-text software in action against large software company for patent infringement; successfully transferred case from E.D. Tex. to D. Mass; obtained favorable claim construction ruling; and matter settled after business resolution between the parties.
Patent Litigation: VoIP
Defended three telecommunications networking companies in E.D. Tex. against accusation of infringement of patents relating to VoIP technology; lead responsibility for witness who testified at trial about key prior art; case settled the next day for a fraction of the original demand.
Patent Litigation: Chemicals
Defended chemical company in patent case involving patents related to termites and animal health, and was heavily involved in expert reports and discovery, as well as Markman and summary judgment motions; obtained favorable claim construction ruling and filed strong summary judgment motion of invalidity, leading to the case being settled hours before argument on summary judgment motion.
Patent Litigation: Golf Balls
Represented large golf equipment manufacturer in case in U.S. District Court for the District of Massachusetts against numerous golf ball sellers over patents relating to aerodynamics of golf balls; defeated a motion to dismiss and obtained favorable settlements with all defendants early in proceedings.
Patent Litigation: Golf Clubs
Defended large golf equipment manufacturer against competitor who alleged that several golf clubs infringed a patent; obtained summary judgment of non-infringement for all golf clubs and claims from U.S. District Court for the Eastern District of New York, defended decision on appeal to the U.S. Court of Appeals for the Federal Circuit, and obtained second summary judgment of non-infringement after initial decision was partially vacated on appeal.
Patent Litigation: Medical Device
Defended company medical device manufacturer against claimed infringement of expired patent relating to laser hair removal; obtained stay of matter pending reexamination of patent, which resulted in cancelling of all allegedly infringing claims and dismissal of case against client.
Patent Litigation: MEMS Microphones
Represented large semiconductor manufacturer in an ITC investigation and parallel district court proceeding in U.S. District Court for the Northern District of Illinois, defending against two patents owned by a competitor relating to microelectromechanical systems (MEMS) microphones; instrumental in prevailing in a rare initial determination proceeding (akin to a preliminary injunction hearing), in which an administrative law judge found the competitor's patents were invalid, and then in proving invalidity at full merits hearing; ITC affirmed both invalidity determinations.
Patent Litigation: NPEs
Represented many companies over the years in patent litigations brought by numerous non-practicing entities, including in U.S. District Courts for the Eastern District of Texas, District of Delaware and Northern District of California; aggressively pursued early motions and uncovered key prior art that led to favorable settlements for his clients.
Patent Litigation: Ride Sharing
Represented car sharing company in patent litigation in D. Mass; developed key non-infringement argument and convinced plaintiff to dismiss suit with prejudice before deadline to file Answer.
Patent Litigation: Semiconductors
Represented semiconductor manufacturer in patent case against competitor in litigation in U.S. District Court for the District of Delaware, in which both sides asserted patents relating to power management and A-D converters; conducted Markman hearing and obtained favorable construction, leading to the case being settled on favorable terms shortly after fact discovery began.
Patent Litigation: Telecommunications
Defended large telecommunication company in patent litigation in U.S. District Court for the Northern District of Texas brought by a competitor over eight patents relating to encryption, unified communications, messaging, and audio and video codecs; filed four petitions for Inter Partes Review with the Patent Office, and obtained institution on all of them; case settled favorably shortly thereafter.
Patent Litigation: Telecommunications
Defended three major telecommunications companies against patent claims relating to VoIP technology in U.S. District Court for the Eastern District of Texas; took lead in preparing pretrial filings and assisted with trial witness preparation; case was settled after the third day of trial for a fraction of the original demand.
Patent Litigation: Video Monitoring Software
Represented company that provides intelligent video monitoring products who sued larger competitor for infringement of patent related to video monitoring and for theft of trade secrets in U.S. District Court for the Central District of California; case settled favorably during fact discovery after Mr. Stern took key deposition of engineering employee of defendant.
Sale of Integrated Process Technologies, Inc. to Lewa-Nikkiso America Inc.
Integrated Process Technologies, a Massachusetts based company specializing in the engineering, design, and manufacture of high purity process systems, and its related entities were acquired by LEWA-NIKKISO AMERICA, INC., a US subsidiary of a Japanese public company, based in California. This transaction involved complex issues including patents, proprietary technology with third party rights, environmental and real estate issues, in addition to the typical due diligence matters involved with an acquisition. Verrill's Business & Corporate Group handled the negotiation of the purchase documents, and the firm's Intellectual Property Group advised on all of the patent issues. Verrill's Environmental, Real Estate, Labor & Employment, and Employee Benefits & Executive Compensation Groups also advised.
State-Wide Electronic Health Information Exchange
Verrill incorporated and obtained tax-exempt status for our client, a state-wide electronic health information exchange. Kate Healy served as legal counsel to our client. On their behalf, she served on each of the state's Health Information Technology Legal Working Groups. The Legal Working Groups, comprised of a wide variety of stakeholders, developed and recommended statutory changes to state law to facilitate the exchange of electronic health information among health care providers. Kate Healy and Charlie Bacall collaborated in the representation of this long-time client in the negotiation of contracts with multiple integrated delivery systems across the state to participate in the health information exchange.
The VIA Group, LLC
We wish we could claim to possess the creative spark of our client, Via. They develop marketing and advertising campaigns and even new brand names for an impressive list of household brands, like Welch's® and Maidenform®. But they need our legal creativity too. In addition to helping screen for potential intellectual property conflicts, we help them negotiate contracts with their clients that allow the client to use the materials Via develops without stifling Via's creativity.
Trade Secret & Unfair Competition Litigation: Healthcare
Defended national healthcare consulting firm on misappropriation of trade secrets and contract claims brought by competitor in Texas state court; defended against preliminary injunction, argued numerous discovery and pretrial; settled weeks before trial.
Trade Secret & Unfair Competition Litigation: Telecommunications
Represented large international manufacturer and seller of telecommunications equipment to all major wireless providers against a supplier in a breach of contract, theft of trade secrets and unfair competition action brought in the Commercial Division of the New York State Supreme Court, a case in which the plaintiff brought two separate preliminary injunction motions to stop our client from selling key hardware and software that is instrumental in sending data over Code-Division Multiple Access (CDMA) wireless networks; the case was settled favorably during a hearing on second preliminary injunction when it became clear that plaintiffs motion was unlikely to succeed.
Trademark Litigation: Multimedia
Defended multi-platform media company in trademark infringement and unfair competition matter in U.S. District Court for the District of Massachusetts; integral member of trial team; obtained complete defense verdict after bench trial.