A Guy Unexpectedly Walks into a TSA Bag Inspection: Don't Let TSA Snag your Swag and Other Promotions Gone Awry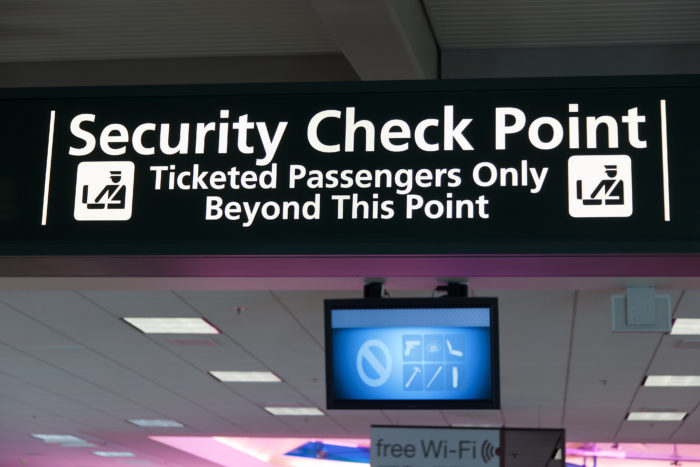 With the increasing popularity of beer tourism and the statistics on brand loyalty (or lack thereof) among craft beer lovers, breweries may be looking for ways to promote their brand and keep their brewery's name on the lips of consumers. Some have started loyalty programs, while others find alternate fun and distinctive ways to promote their brand. We continue to be amazed by and applaud the craft brew community's innovative approach to growth and marketing. We encourage you to keep the craft beer community unique, creative and fun. But, sometimes promotions go wrong in unexpected ways that at best are embarrassing, and at worst run afoul of the law.
So let's start with a recent mistake that led to the risk management guy (your author) getting stopped by TSA on his way home from speaking on that very topic at a national conference. I assume that most of this conference's attendees flew there. I would also guess that many who flew opted not to check a bag. Those two simple facts were overlooked by at least one conference exhibitor whose good intentions in handing out carabiner key chains and pens went awry.
Since I have use for both carabiners and pens, I took one of each, tossing them in my bicycle messenger bag without really looking at either (don't try this at home, says the risk management person in me). I promptly forgot about them as I focused on learning more about craft beer and the people who brew it. And I'd have completely forgotten about the swag until I arrived home and unpacked, had a TSA agent not had a few questions about the contents of my bag. As she placed my bag on the special table for searching suspect bags, she asked if I had a pocketknife in it. I stopped carrying pocketknives after losing a few too many at court security so I had no idea what she was talking about and said no. She asked if I had a carabiner and I told her which pocket she'd find it in. She pulled it out of the side pocket and showed me the pocketknife hidden in one side of the carabiner. Given the choice of mailing it home or letting TSA confiscate it, I chose the latter; missing out on a unique and useful conference souvenir and adding one more to a pile of carabiner knives confiscated by TSA that week.
While some would consider this a marketing success because people are talking about it, I tend to think that it was a marketing fail. If I'd just taken the carabiner, I wouldn't know what company handed out the swag. But I took the pen, too, so I know the name of the company that had TSA searching my bag. Sure it was a minor inconvenience, but one that could easily have been avoided by thinking through the promotion, realizing that most people who attended the conference flew there, and that in this age of baggage fees, the pocketknife was going to end up in a lot of carry-on bags.
Of course, few breweries are going to hand out hidden knives while also selling alcohol, that's just asking for trouble. What about free music? Many tasting rooms feature live music, so why not send people off with some tunes to go with the growlers, four packs or six packs they're taking home? If you do, be careful. In 2006, 10,000 McDonald's customers in Japan won MP3 players with 10 free songs. Sounds great, right? It was. Until they realized there was a Trojan virus stealing their passwords and information and sending it to hackers as soon as the MP3 player was plugged into a computer. Regardless of whether that is covered by a cyber-liability insurance policy, that's damage to your reputation from which you might never recover.
How about a tattoo incentive? Maybe a special offer for anyone who gets a tattoo of your logo or flagship beer name (though be careful of what that special offer might be, state regulations limit what breweries can give away; free beer is pretty much forbidden). But beware of the lengths to which people will go, particularly in an age and community where tattoos are ubiquitous. A family who owned a taqueria in California found out the hard way when they offered free lunch for life to anyone who got a tattoo of their logo. Pretty soon, there were 40 people who had been tattooed with the logo. That math did not favor the taqueria: 40 people getting free $8 lunches every day for fifty years amounts to $5,840,000. Realizing the cost, they capped the promotion at 50 people, but that still means a potential cost of $7,300,000 over 50 years. In one year alone, that's $146,000 – and one would guess that your brewery has better things to do with $146,000 annually.
And, finally, a brewery, perhaps without thinking it through completely, decided to hold a contest in Canada in which college students were asked to upload photos to a leading social media site with the promise of a trip to Cancun for the pictures that earned their institute of higher learning the title of Canada's top party school. College kids + Beer + Photos of their zany antics = top party school accolades. What could possibly go wrong? As you might imagine, school officials, parents, communities, and pretty much everyone but the college kids were not amused and the promotion was cancelled.
This short list just scratches the surface of promotions gone awry – and though we're lawyers, we did not even get to the question of what promotions are legal because that varies so greatly from state to state in the heavily regulated space that breweries occupy. The bottom line is construct your promotions carefully, think through the potential consequences and worst case scenarios, check with your lawyer and your insurer to make sure it's legal and covered, all while staying creative and innovative.
Here at Verrill Dana, we have a promotions law guru to answer all of your questions on the legality of your promotions. If you have questions on the legality of a particular promotion or giveaway, contact Verrill attorney Robert Laplaca.