Verrill Dana Partner William Knowles Receives Peter J. DeTroy III Award from Campaign for Justice
June 20, 2018
Press Releases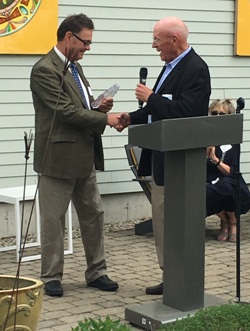 (June 20, 2018) – Verrill Dana Partner William Knowles was honored with the Peter J. DeTroy III Award by the Campaign for Justice on June 14 at the second annual award ceremony.
The award, presented to Knowles by Justice Daniel E. Wathen, was created in 2017 to honor DeTroy's legacy. The award recognizes an individual who has worked to remove barriers for people who are vulnerable or who has worked to advance justice in Maine, and who exemplifies the same selfless spirit as DeTroy.
"Like Peter DeTroy, Bill Knowles is known as a tireless advocate for fairness and justice for all," said Trish O'Donnell, Campaign for Justice Director. "His empathy, kindness, generosity, leadership and quiet counsel reflect Peter's legacy. The Campaign could not be more pleased to present Bill with the Peter DeTroy award. He is a role model in every regard."
In addition to maintaining his general civil trial practice and serving as Verrill Dana's General Counsel and Loss Prevention Partner, Knowles dedicates his time and experience to providing equal access to justice through his position as a current member and former Chair of Pine Tree Legal Assistance and on the Board of Directors of the Maine Justice Action Group. Knowles is also a former board member and legal director of the Maine Civil Liberties Union and previously served on the board of governors of the Maine Trial Lawyers Association.