Verrill Dana Receives Top Recognition for its Pro Bono Efforts
December 8, 2016
Press Releases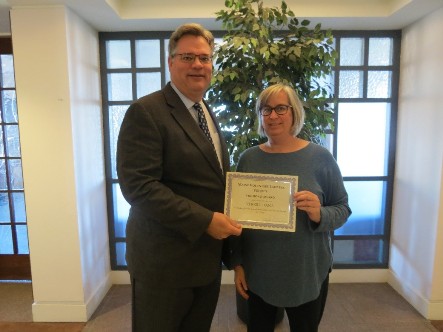 K.C. Jones, Managing Partner at Verrill Dana, and Nora Healy, attorney and Pro Bono Coordinator at Verrill Dana
(December 8, 2016) – Verrill Dana was recently honored with the Maine Volunteer Lawyers Project (VLP) Pro Bono Award for donating the most hours on VLP cases of any law firm in Maine through 2015/2016. Last year, the firm received the VLP Pro Bono Publico Award for donating the most Lawyer of the Day hours of any Maine law firm the previous year.
"Around one in every three Mainers can benefit from pro bono legal services," said Nora Healy, attorney and Pro Bono Coordinator at Verrill Dana. "We are proud to help ensure that there is equal access to justice in the communities in which we choose to practice, through organizations like the Maine Volunteer Lawyers Project."
More than 35 Verrill Dana attorneys assisted VLP this year:
Tawny L. Alvarez
Charles P. Bacall
Samuel J. Baldwin
Heidi A. Bean
Phillip S. Bixby
Lisa S. Boehm
Robert C. Brooks
Susan E. Bryant
Anthony M. Calcagni
Braden M. Clement
Seth S. Coburn
Jonathan M. Dunitz
Anya F. Endsley
Benjamin E. Ford
Mark K. Googins
Katie M. Gray
Kathleen Gleason Healy
Rita S. Heimes
Nathaniel R. Hull
Michael G. Kebede
Mark V. Kenny
Wayne A. Keown
Brett R. Leland
Christopher S. Lockman
Brian T. Marshall
Christopher T. Monroe
Marie J. Mueller
Misti D. Munster
Taylor R. Neff
Stephen B. Segal
Timothy R. Shannon
William H. Stiles
Spencer R. Thibodeau
Mathew J. Todaro
John W. Van Lonkhuyzen
Rachel M. Wertheimer
Chantal M. Wilson
Karen Frink Wolf
Verrill Dana continues to serve as a leader in the provision of pro bono legal services and has received various honors over the years for its efforts. A core value of the firm for more than 150 years, participation in pro bono causes is encouraged for all of its attorneys.
About the Maine Volunteer Lawyers Project: The Maine Volunteer Lawyers Project is a non-profit legal aid organization that provides free legal information, assistance and representation to low-income people facing civil legal problems. All of their legal services are provided by community and attorney volunteers supported and supervised by a small staff. Their mission is to make "justice for all" a reality in Maine by giving people the knowledge, tools and support to be equal participants in our justice system. To learn more, visit http://www.vlp.org/.