Verrill Elects Four New Partners
January 22, 2020
Press Releases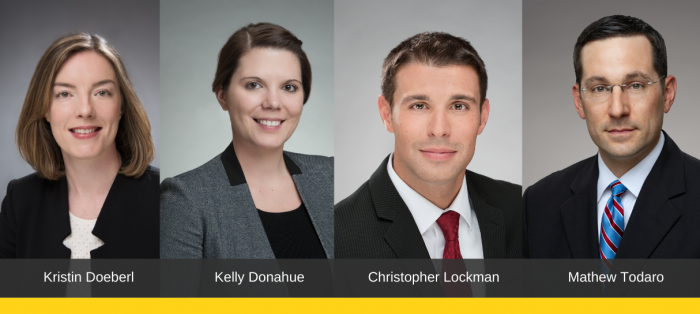 (January 22, 2020) – Verrill is pleased to announce that four of the firm's attorneys have been elected to partner: Kristin Doeberl, Kelly Donahue, Christopher Lockman, and Mathew Todaro.
Kristin Doeberl, a family law advocate, negotiates and drafts prenuptial, separation, and modification agreements, and represents clients in divorce, custody, removal, international child abduction, guardianships, modification, and contempt proceedings. Doeberl advises clients on issues impacting the LGBTQ community, and handles second-parent adoptions. She also serves as a court-certified conciliator. Prior to entering private practice, Doeberl interned with the Honorable Judge Nancy Gertner (retired) of the U.S. District Court for the District of Massachusetts, with the Elder Law Unit of Greater Boston Legal Services, and at the United Nations' International Criminal Tribunal for the Former Yugoslavia in The Hague. She received her bachelor's degree from Wellesley College, cum laude, and earned her law degree from Northeastern University School of Law, where she served as managing editor of the Northeastern University Law Journal.
Kelly Donahue assists small and large businesses in establishing and protecting their brands in the U.S. and in other countries. She has extensive experience advising clients on trademark portfolio management, prosecution, clearance, and enforcement. Prior to joining Verrill, Donahue built her intellectual property practice through her role as an attorney in the Boston office of Locke Lord and before that in the legal department at Under Armour. She received her bachelor's degree from Bryant University and earned her law degree from the University of New Hampshire School of Law, where she served as senior editor of the University of New Hampshire Law Review.
Christopher Lockman advises clients on a range of retirement plan, welfare benefit plan, and executive compensation issues. He has significant experience correcting retirement plan administrative errors, assisting clients with the administration of consumer-driven health care arrangements (FSA, HRA, and HSA programs), and winding down plans administered by bankrupt entities. He also defends fiduciary breach claims and claims for benefits under ERISA. He currently serves as the Chair of the Board of Directors for the Healthcare Purchaser Alliance of Maine. Prior to joining Verrill, Lockman served as a law clerk in the United States Bankruptcy Court for the Western District of Pennsylvania and, while in law school, worked full-time at a multinational securities brokerage firm. He received his bachelor's degree from Allegheny College, cum laude, and earned his law degree from Duquesne University Law School, cum laude.
Mathew Todaro advises clients facing an array of regulatory compliance challenges. He has a strong record of success in defending clients facing inspections and enforcement proceedings from administrative agencies specifically concerning federal regulatory matters. He defends and negotiates on behalf of his clients under statutes like the Clean Water Act and with a particular focus on Section 112(r) of the Clean Air Act. He also represents clients in complex, multi-party CERCLA matters for sites listed on the U.S. Environmental Protection Agency's National Priorities List, as well as private and agency-supervised environmental remediations. Todaro also advises clients engaged in the wastewater treatment and waste disposal industries and assists clients with OSHA compliance concerning Environment, Health and Safety programs. Todaro's experience includes clerkships with the U.S. Department of Justice's Environment and Natural Resources Division and as a Rappaport Fellow within the Office of General Counsel of the Massachusetts Department of Environmental Protection. Prior to law school, Todaro was the International Policy Director for one of the nation's largest environmental policy networks. Todaro received his bachelor's degree from The George Washington University, magna cum laude, and earned his law degree from Boston College Law School.