Verrill's Intellectual Property Team
May 3, 2019
Seminar Materials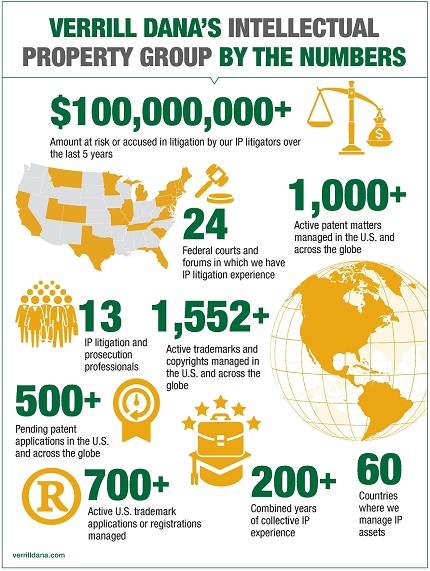 Recent Wins
Shire City Herbals Inc. v. Blue et al., 3:15-30069 (D. Mass)

Verrill Dana represents the three defendants in the long-running litigation brought by Shire City Herbals, Inc. over the alleged trademark FIRE CIDER. Shire City Herbals brought claims against the Defendants for trademark infringement as well as claims related to online activities and speech by the Defendants. Through the efforts of Verrill Dana attorneys, this case has expanded the protections available to businesses (and individuals) for their online activities and speech. In particular:
Online activities ancillary to constitutionally protected activity also receive immunity. Using the Massachusetts "anti-SLAPP" statute, Verrill Dana attorneys successfully expanded the protections from abusive litigation to now also protect related online activities and speech.
Commercial activity can also receive immunity. Verrill Dana attorneys also successfully argued that commercial (i.e. profit motivated) activities can also be eligible for immunity, giving businesses greater protection against meritless litigation brought by competitors for strategic purposes.
Plixer International, Inc. v. Scrutinizer GmbH, 2:16-cv-578 (D. Me.)

Verrill Dana represents the plaintiff in the groundbreaking matter current pending in federal court in Maine over the trademark SCRUTINIZER. The Defendant, a German company with no physical presence in Maine, moved to dismiss the matter, arguing that the federal court in Maine lacked jurisdiction over the Defendant. The case presented the novel legal question of under what circumstances could a foreign company – whose only interaction with the U.S. is via its website – can be sued in a United States court. This case provides the following guidance:
Websites can expose foreign companies to U.S. courts. Maintaining an interactive website, accessible to anyone but targeted to no one in particular, and selling to a de minimusnumber of U.S. customers can expose foreign companies to liability within the U.S, even without a physical footprint. Foreign companies who want to reduce this risk should consider filtering their websites to avoid engaging with U.S. customers.
Filing a U.S. trademark application can subject a foreign company to U.S. courts. As the Plixer decision shows, foreign companies should think carefully about preemptively filing trademark applications with the United States Patent and Trademark Office. Doing so could unwittingly expose the company to U.S. jurisdiction.
About Verrill's Intellectual Property Group
A growing number of clients today recognize that intellectual property is a core asset – in many cases, the core asset. From software and biotech companies to high-tech manufacturers, start-ups to established Fortune 500 companies, many of our clients are building their businesses – and betting their futures – on innovative intellectual property.

Verrill Dana's Intellectual Property Group helps its clients to identify, protect, and enforce intellectual property rights throughout the world. Our growing team combines experienced attorneys and paralegals to provide a full range of legal services from prosecution, to licensing, to litigation.

Patent Prosecution

Our patent prosecution experience spans industries from electronics to life sciences and from software to transportation. Client technologies include wind energy, hydropower, robotics, wearables, superconductors, aquaculture, pharmaceutical compounds, cancer therapies, medical treatments, and photoacoustic medical devices. Our patent prosecution practice also spans the globe. We prosecute and maintain worldwide patent portfolios in over 50 countries, as well as nationalize and accelerate U.S. patents for international clients.

Our patent prosecutors provide clients with intellectual property counseling, patent strategies, due diligence reviews, and opinions, including freedom to operate, non-infringement, and invalidity opinions. We also advise clients on a broad range of intellectual property based transactions, including patent and technology licensing and technical development agreements.

Trademark Prosecution

In the trademark arena, we guide brand owners through the process of selecting, clearing, prosecuting, and registering trademarks before the U.S. Patent and Trademark Office and with corresponding intellectual property agencies worldwide. Our team often evaluates corporate trademark policies andusage practices, strategizes with clients to create comprehensive and value-driven trademark portfolios, negotiates and drafts licensing agreements, and collaborates with our litigators to enforce our clients' trademark rights and defend against claims of infringement.

Copyright Protection

We also analyze complex copyright ownership and validity issues, provide fair use assessments, and navigate the U.S. Copyright Office's practices and procedures. In today's digital era, we have extensive experience preparing software licenses, software-as-a-service agreements, click-through agreements, terms of use, and privacy policies for websites and mobile applications, and advising on domain name, promotion, sweepstakes, and advertising issues.

Intellectual Property Litigation

Our patent litigators handle high-profile cases throughout the United States, opposing lawyers from the largest national firms. We prepare and try cases in a wide range of technologies, including gene expression, LED lighting, pharmaceuticals, electronic medical records, software, and computer chip manufacturing, among others. Our litigation practice also includes invalidity challenges and patentee defense before the U.S. Patent Trial and Appeal Board.

Our trademark, copyright, trade dress, and trade secret litigation experience is equally extensive. We have won jury trials and obtained favorable settlements and judgments in diverse industries, including music recordings, consumer products, food and beverage, fashion, and footwear. Our litigation team also practices before the U.S. Trademark Trial and Appeal Board handling registrability, opposition, and cancellation proceedings.

Throughout the lifecycle of your brand, invention, design, or global intellectual property portfolio, Verrill Dana offers strategic, experienced, and effective representation through an integrated, client-focused team.
About Verrill
Verrill Dana is a full service law firm with more than 130 attorneys and a growing number of service-based practice groups. The firm has a regional presence in the Northeast, with offices from Maine to Washington, D.C., allowing us to serve clients with interests across the country and around the world. Through scalable staffing, careful communication and skillful project management, Verrill Dana helps individuals and businesses achieve their goals in a manner that suits their unique legal needs and preferred work methods.

We embrace the principles behind the Association of Corporate Counsel Value Challenge. We are committed to providing value-driven, quality legal services and practical solutions in a cost-effective manner. Our lawyers are notsatisfied being only quality service providers. We strive to earn the status of trusted counsel, advocates and allies in our clients' success.

Verrill Dana's enduring commitment to quality client service is complemented by our commitment to community service. Verrill Dana believes that its role as a leading New England business carries a corresponding obligation to give back to the communities in which we live and work. This obligation is fulfilled through the personal service of our lawyers and staff in numerous community organizations, the firm's prominent charitable giving program and the direct provision of pro bono legal services.
Verrill's Intellectual Property Team