Experience
Solar PPA Negotiation on Behalf of Brunswick, ME Nonprofit
In 2016, Verrill worked with The Gathering Place, a nonprofit organization based in Brunswick, Me., in negotiating a solar power purchase agreement with Maine's largest solar installation company. The rooftop solar project was installed on The Gathering Place's newly constructed building and has been powering the building since January 2017. The Gathering Place provides a welcoming space for the community's homeless to gather, socialize, engage in hobbies, and just relax.
Oakhurst Dairy: The Natural Goodness of an Enduring Legacy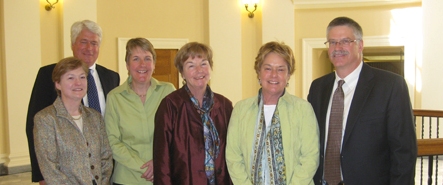 The Bennett Family
L to R: Jean Bennett Driscoll, William P. Bennett, Mary Ellen Bennett Tetreau, Priscilla Bennett Doucette, Althea Bennett McGirr, John H. Bennett
When Stanley T. Bennett opened Oakhurst Dairy in 1921, he laid the groundwork for what would grow to become an iconic multi-generational family-owned business with a reputation for innovation, community service and environmental stewardship. His family successfully ran the business for three generations. In 2013, the family made the decision to sell the company to Dairy Farmers of America, Inc. (DFA), a $12 billion cooperative. A team of Verrill attorneys worked closely with the Bennetts throughout the complex merger negotiations which lasted more than six months and involved multiple potential acquirers. Many legal issues required attention beyond the agreement negotiations, and Verrill had the breadth and depth of experience to take them on. Our team provided counsel relating to federal antitrust review, taxation and benefits issues, intellectual property, environmental permitting and real estate interests.

Oakhurst's numerous dairy products have been a household staple in New England for generations. The Bennett family was thrilled to have the partnership opportunity presented by DFA, with its national presence, complementing culture and values, and financial strength. As a result of the sale, none of Oakhurst's 200 employees lost their jobs, the company will continue to get its milk from the 70 independent Maine farmers who supply Oakhurst's milk, and the integrity of the product will be maintained. Verrill was honored to work with this iconic company in ensuring its legacy will endure and the dairy will remain a vibrant member of the local economy for generations to come.
Emera's Acquisition of Swan's Island Electric Cooperative
Emera's 2017 acquisition of Swan's Island Electric Cooperative required a multi-disciplined team of Verrill energy lawyers to successfully close the transaction. Because the seller was a member based cooperative, the transaction was structured as an asset purchase, rather than a stock purchase. This required a determination that the Cooperative had marketable title to hundreds of easements, many of which had been acquired by the Cooperative decades earlier. Upon investigation, the parties identified that there were over 200 easements to be acquired or confirmed for Cooperative power lines crossing private property. Tony Calcagni worked with the Cooperative management team for approximately one year to remedy the problems and procure valid deeds to the power line easements.
The acquisition also raised a novel question of utility ratemaking. Because of the high cost of serving the islands, the Public Utilities Commission raised the issue as to whether island ratepayers should pay more than Emera's mainland rates for electricity. In a two to one decision, the Maine PUC rejected the acquisition, finding that charging mainland rates to island customers would result in an unreasonable subsidy of island customers. In response, Bill Harwood and Brian Marshall, renegotiated the terms of the acquisition by including a five-year monthly surcharge on island ratepayers, and were thereby able to convince the Public Utilities Commission to approve the acquisition.
LUPC Ruling Reversal
We obtained a reversal of a 10-year-old Land Use Planning Commission ruling for a Moosehead Lake landowner. The new determination found that the landowner's property was consistent with LUPC rules and allowed the client to convey his family camp to another family member. Without our advocacy, LUPC's position was that the client's property did not meet dimensional requirements and was not saleable. Verrill Dana attorneys also handled the landowner's real estate transactions and probate issues related to the camp, including confirmation of water access rights.
Solar PPA Negotiation on Behalf of North Haven Nonprofit
In 2017, Verrill represented North Haven Sustainable Housing in negotiating a solar power purchase agreement with Maine's largest solar installation company. The rooftop solar project is anticipated to be in service by the end of 2017 and will be installed on a newly constructed building on land donated to North Haven Sustainable Housing. The building will serve as housing for the elderly.