Class-y Look: Abercrombie's Look Policy Under Attack . . . Again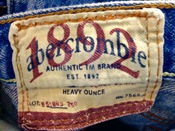 Earlier this month, a California federal judge certified a class-action lawsuit of approximately 62,000 Abercrombie & Fitch employees who claim that they were forced to purchase Abercrombie & Fitch clothing to wear on the job. Pursuant to the "look policy" which came under attack in the recent decision in EEOC v. Abercrombie & Fitch, Plaintiffs are now alleging that they were compelled to purchase new Abercrombie clothing each time a new sales guide came out. The suit alleges that these "compelled purchases" violated the state labor code and that the company's failure to reimburse employees, despite requiring them to wear this "uniform," operated as another violation of California law. Abercrombie & Fitch's position is that the look policy contains a disclaimer that "Abercrombie employees are not required to purchase Abercrombie clothing," and that said disclaimer should be controlling. Plaintiff's counsel, however, disagrees, arguing that employees who did not wear new clothing each time the sales guide came out had their hours cut and/or were sent home if they wore anything that was not Abercrombie & Fitch.
If you recently have implemented a "look policy" double-check with counsel to confirm that current requirements are not in violation of any state or federal laws. We will keep readers updated as this case continues to develop.