Falling Prices, Rising Wages: Wal-Mart Announces $9.00 an Hour Minimum Pay Scale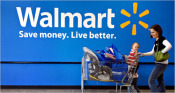 Wal-Mart Chief Executive Officer Doug McMillon announced last week that in April Wal-Mart will pay its employees a minimum of $9.00 an hour—$1.75 more than the current federal minimum wage of $7.25. Going a step further, by February of 2016, Wal-Mart has announced that its lowest hourly rate of pay will rise to $10.00 per hour. This change will affect approximately half a million Wal-Mart workers throughout the United States .
While the emphasis of the announcement goes to the increase in the minimum wage payment, at the end of the announcement McMillon also notes that changes will be made to the Company's sick leave policy. Currently U.S. employees do not receive paid sick leave until the second day they are out sick. Accordingly, employees must use their personal days in order to be compensated on the first day out ill. The new policy will now elimiate the one-day waiting period as of next year.
Additionally, the newly announced plan will allow workers to contribute to 401(k) plans from the first day of employment, as opposed to waiting a year as is currently the policy.
About 44% of Wal-Mart's hourly staff turns over each year. This number is significant as the Company employs 2.2 million workers worldwide. This announcement has also spurned great debate about the minimum wage (changes discussed in part here and here) that is occurring across the country as well as recent changes to leave policies and benefits (discussed in part here, here and here) instituted over the last few years independently by states.