She's Not a Beauty School Drop Out But She Could Be Creating A Cut and Color FLSA Nightmare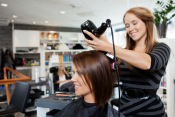 Earlier this week a District Court judge in the District of Nevada denied Defendants' Motion to Dismiss in an FLSA class action lawsuit. The case, Guy v. Casal Institute of Nevada, stems from allegations by the plaintiff that while attending a for-profit cosmetology and esthetics services school "which trains paying students to learn and practice the trades of cosmetology and esthetic services," she was forced to work unpaid at the school's for-profit business that provided cosmetology and esthetic services to the public for a fee. She alleges that her work did include cosmetology and esthetic services, but also included janitorial and administrative tasks which she alleges did not further her education in any regard. She has brought the FLSA claim as a class action on behalf of herself and other similarly situated employees.
While the motion to dismiss standard is quite low, the defendants were able to dismiss all of the individual defendants who were named in the complaint. Defendants' additional defenses, however, were unsuccessful and discovery will take place. The Court found that the complaint was sufficient to survive the motion to dismiss standard as she alleged that she and similarly situated individuals "were required to perform labor that 'did not and could not confer any educational or occupational benefit,' including administrative, janitorial, and logistical functions."
While Plaintiff's ability to overcome the motion to dismiss standard is not telling of whether she will be able to substantiate her claim, the case could have interesting implications for other educational institutions. We will keep readers updated as the case progresses.