Tasty Tuesday: Arbitor Ends Cupcake War - Cupcake is Not an Intoxicating Beverage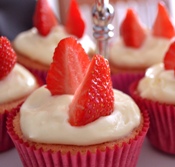 Let us frost your day with a tasty treat—an arbitration decision out of Ohio, In re First Student, Inc. What is sweet about this arbitration you ask? Well cupcakes of course!
Grievant was a former bus driver who was discharged after bringing cupcakes to work for a Halloween party. The cupcakes in question were "Irish Car Bombs" and "Strawberry Margarita," which included "varying amounts of alcohol respectively in the baked batter, filling, and icing." While Alton Brown was not called as a witness for the arbitration (nor was the alcohol content of the cupcakes ever tested), the employer's position was that these cupcakes were no different "than college party jello shots or marijuana brownies" and thus terminated the individual for violation of the company policy which prohibited "possession, use or sale of any intoxicating beverage."
The Arbitrator disagreed on the appropriateness of the termination, finding that a "beverage" was defined by Webster's Dictionary as a "drinkable liquid," and that a cupcake is eaten, not drunk. Accordingly, the Arbitrator found that the policy was not broken when the cupcakes were brought on the property.