Teamsters "Liking" First Labor Contract for Facebook Drivers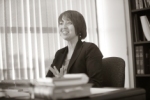 Facebook Inc.'s shuttle bus drivers voted on Saturday, February 21, to ratify a labor contract that would increase hourly pay and benefits in their positions as well as address split-shift scheduling. Approximately 87 International Brotherhood of Teamsters members ratified the labor contract in a unanimous vote. The Agreement will now be submitted to Facebook by Loop Transportation (the company employing the International Brotherhood of Teamsters members). This vote comes shortly after the drivers had voted to be represented by IBT Local 853 in November 2014.
On Friday, drivers of Compass Transportation will vote as to union representation. Compass employs drivers who shuttle Apple, Yahoo, Zynga and Genentech employees. These acts serve as big steps for organized labor in Silicon Valley's service industry. We will keep you posted as the events progress.