"The Writing is On the Wall": Seventh Circuit Clears Up Any Misconceptions the Public May Have on the Court's View on Sexual Orientation Discrimination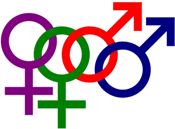 Late last week, the Seventh Circuit issued an opinion in Hively v. Ivy Tech Community College, in which it held that Title VII provides no redress for discrimination of the basis of sexual orientation. The Seventh Circuit is the first federal court of appeals court to rule on the issue since the EEOC's administrative ruling in July 2015 that bias based on sexual orientation is discrimination in violation of Title VII.
While the court relied on previous holding of the circuit that sexual orientation was not a protected case, the court provided an extended analysis of the EEOC's 2015 decision in Baldwin v. Foxx, EEOC Appeal No. 0120133080, 2015 WL 4397641, at *5, *10 (July 16, 2015), where the EEOC concluded that: "sexual orientation is inherently a 'sex-based consideration,' and an allegation of discrimination based on sexual orientation is necessarily an allegation of sex discrimination under Title VII." In support of this position, the EEOC has been relying in large part on the United States Supreme Court's decision in Price Waterhouse where the Court held that gender stereotyping constituted discrimination on the basis of sex in violation of Title VII.
As previously discussed (here and here), the EEOC continues to file claims across the country attempting to further the argument that sexual orientation discrimination is a form of gender discrimination as a result (in part) of gender stereotyping. The Seventh Circuit performed a thorough analysis of the argument, but ultimately recognized that until the Supreme Court or the legislature changed the current precedent, a plaintiff is unable to maintain a claim for sexual orientation discrimination.
Specifically, the court's decision was driven in part by some of the following conclusions regarding the relationship between gender stereotyping and sexual orientation discrimination:
Nevertheless, although disentangling gender discrimination from sexual orientation discrimination may be difficult, we cannot conclude that it is impossible. There may indeed be some aspects of a worker's sexual orientation that create a target for discrimination apart from any issues related to gender. Harassment may be based on prejudicial or stereotypical ideas about particular aspects of the gay and lesbian "lifestyle," including ideas about promiscuity, religious beliefs, spending habits, child-rearing, sexual practices, or politics. Although it seems likely that most of the causes of discrimination based on sexual orientation ultimately stem from employers' and co-workers' discomfort with a lesbian woman's or a gay man's failure to abide by gender norms, we cannot say that it must be so in all cases. Therefore we cannot conclude that the two must necessarily be coextensive unless or until either the legislature or the Supreme Court says it is so.
. . . .
In sum, the distinction between gender non-conformity claims and sexual orientation claims has created an odd state of affairs in the law in which Title VII protects gay, lesbian, and bisexual people, but frequently only to the extent that those plaintiffs meet society's stereotypical norms about how gay men or lesbian women look or act—i.e. that gay men tend to behave in effeminate ways and lesbian women have masculine mannerisms. By contrast, lesbian, gay or bisexual people who otherwise conform to gender stereotyped norms in dress and mannerisms mostly lose their claims for sex discrimination under Title VII, although why this should be true is not entirely clear. It is true that "not all homosexual men are stereotypically feminine and not all heterosexual men are stereotypically masculine" as the Second Circuit explained while defending the exclusion of sexual orientation protection under Title VII. Simonton, 232 F.3d at 38. But it is also true, as we pointed out above, that all gay, lesbian and bisexual persons fail to comply with the sine qua non of gender stereotypes—that all men should form intimate relationships only with women, and all women should form intimate relationships only with men.
Hively v. Ivy Tech Cmty. Coll.No., 15-1720 (7th Cir. July 28, 2016). The Court also noted the paradox in the legal landscape that has developed. Specifically, that although two people can be married, they can also be fired for the act. Accordingly, "[f]rom an employee's perspective, the right to marriage might not feel like a real right if she can be fired for exercising it." The Court went on to further note, "Many citizens would be surprised to learn that under federal law any private employer can summon an employee into his office and state, 'You are a hard-working employee and have added much value to my company, but I am firing you because you are gay.' And the employee would have no recourse whatsoever— unless she happens to live in a state or locality with an anti-discrimination statute that includes sexual orientation."
If there were any question on the Court's position on the subject, had it not been bound by the precedent before it, those questions were cleared in the final paragraph of the decision which provided:
Perhaps the writing is on the wall. It seems unlikely that our society can continue to condone a legal structure in which employees can be fired, harassed, demeaned, singled out for undesirable tasks, paid lower wages, demoted, passed over for promotions, and otherwise discriminated against solely based on who they date, love, or marry. The agency tasked with enforcing Title VII does not condone it; many of the federal courts to consider the matter have stated that they do not condone it; and this court undoubtedly does not condone it. But writing on the wall is not enough. Until the writing comes in the form of a Supreme Court opinion or new legislation, we must adhere to the writing of our prior precedent, and therefore, the decision of the district court is AFFIRMED.
Hively v. Ivy Tech Cmty. Coll.No., 15-1720 (7th Cir. July 28, 2016) (citations omitted). While the protection is not currently afforded to individuals at a federal level on the basis of sexual orientation, be mindful that many states do protect individuals from discrimination on the basis of sexual orientation including: California, Colorado, Connecticut, Delaware, the District of Columbia, Hawaii, Illinois, Iowa, Maine, Maryland, Massachusetts, Minnesota, Nevada, New Hampshire, New Jersey, New Mexico, New York, Oregon, Rhode Island, Utah, Vermont, Washington, and Wisconsin.