Women Footballers Ask EEOC to Give the Boot To Wage Discrimination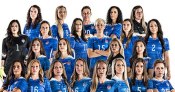 Interesting story that developed on Wednesday: some of the biggest names in U.S. women's soccer filed a wage discrimination claim with the EEOC, contending that the U.S. Soccer Federation pays them almost four times less than members of the men's team, despite the women generating nearly $20 million more revenue last year than the men did.
The complaint was brought by the five team captains -- Carli Lloyd, Alex Morgan, Megan Rapinoe, Becky Sauerbrunn, and Hope Solo -- on behalf of all members of the women's team. It's the latest salvo in disputes between the players and the Federation concerning playing conditions as well as the validity of the players' collective bargaining agreement.
Details to follow, however, for instant reaction, see here, here and here, the latter of which contains a table purportedly illustrating the pay gap.
One more item of note, especially for the greater metropolitan chowd1 area in which many of our viewers reside: the women's lawyer is Jeffrey Kessler.
1 At 1:13 & 1:55