Yahoo Announces New Layoffs, Gets Sued for Old Ones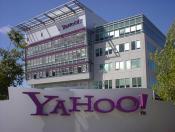 Interesting employment law angle to Yahoo's announcement yesterday that it would explore "strategic alternatives," including a possible sale of some of its assets, and lay off about 15% of its 11,000 employees. The day before the announcement, Gregory Anderson, an editor fired by Yahoo in November 2014, filed a complaint in U.S. District Court in San Jose, alleging that the Company's senior managers routinely manipulated employees' quarterly performance reviews in order to fire hundreds of people without just cause to achieve the company's financial goals.
In the complaint, Anderson alleges that Yahoo, which fired over 1,100 employees in 2014-2015, used the reviews as a subterfuge to evade California law regarding advance notification of mass layoffs as well as WARN.
More on the litigation and the layoffs as matters develop, including whether Yahoo is able to get traction in the tech sector with this attempted "remix."