Ad Says: "Terms and Conditions" Apply, Second Circuit Says: No They Don't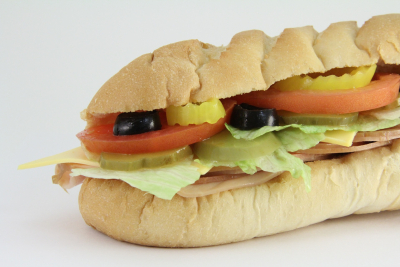 On June 8, 2021, the Second Circuit handed down its opinion in the case Soliman v. Subway Franchisee Advertising Fund Trust, Ltd., No. 20-946, holding that the vague, small type in Subway's in-store ad referring to its "Terms and conditions" alongside the website address for these Terms was insufficient to provide clear and conspicuous notice to the consumer that she would be bound to the arbitration clause in those Terms. (View the opinion here.)
Has the Second Circuit done away with small type in ads? Has it done away with referring a URL for full terms? Will print ads now become the size of a La Guernica? No, no and I hope not.
FACTS: Subway ran a campaign giving consumers the opportunity to receive SMS offers by texting a keyword to a short code. The hard copy in-store ad read: "WANT SUBWAY DEALS SENT DIRECTLY TO YOUR PHONE? TEXT OFFERS TO 782929 (SUBWAY) TO START RECEIVING WEEKLY OFFERS." The small type at the bottom read:
Limited Time Only. Message and data rates may apply. Max 10msgs/mo-Msga may be autodialed from SUBWAY Restaurants. Consent not required to buy goods/svcs. Terms and conditions at subway-com/subwayroot/TermsOfUse.aspz and Privacy Policy at subway.com/subwayroot/PrivacyPolicy-FWH.aspx. For help, text HELP to 782929. To opt-out, text STOP to 782929. Valid at participating restaurants. Additional charges for extra and deluxe. Plus tax. May not be combined with other offers, coupons or discount cards. SUBWAY® is a Registered Trademark of Subway IP Inc. ©2016 Subway IP Inc.
(A full copy of the ad is on page 7 of the Opinion.)
ISSUE: Under California law, whether a consumer is bound to the terms contained on a company's website, where they are generally referenced on a print advertisement as "[t]erms and conditions" alongside the web address for the website containing exact terms (including an arbitration provision), because that consumer viewed the advertisement on display in a store.
HOLDING: Under California law, the consumer was not bound by the arbitration provision in the website Terms because such Terms were not clear and conspicuous to a reasonable person in the consumer's position.
REASONING: The Second Circuit provided five reasons for its holding:
Subway failed to provide evidence of the size of the print ad to the Court – more of an evidentiary problem than a substantive one.
The reference to "Terms and conditions" in the ad was "buried" in a paragraph with print "significantly smaller" in font and in different color and style from the rest of the ad, and the reference itself was surrounded by "a substantial amount of unrelated information."
The ad only "vaguely referenced" the "Terms and conditions" and did not state that the consumer would be agreeing to those terms if she was sent a text.
Access to the Terms required the consumer to type in a thirty-seven character URL to an internet browser on her cellphone or otherwise.
The heading in the Terms once on the website stated that they contained "terms of use for this website" – suggesting that it did not contain terms relevant to the promotional offer itself.
TAKEAWAY: This decision seems very harsh for an ad that is quite typical. On the good side, the Second Circuit confirmed that a consumer could still be bound by terms she never read as long as sufficient notice is provided, that smaller type (in itself) is not forbidden, and that reference to a URL for full terms could be sufficient. But looking at the "totality of the circumstances", the Second Circuit wasn't pleased. Taking into account the Court's gripes, you may want to consider these suggestions:
Highlight or set-off in the ad the reference to full terms.
Consider a short, simple URL for the terms.
State in the ad that the terms apply.
State in the terms themselves that they apply to your promotion.
Limit the small type to only material matters.
It's good to have a gut check every once in a while if at least to remember that someday, someone will be (or will not be) reading "NO PURCHASE NECESSARY [blah, blah, blah] …"