Isn't Fantasy Football Illegal Gambling?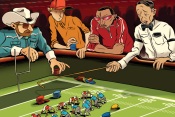 Everyone is familiar with the phrase "No Purchase Necessary." That's because promotions based on chance – sweepstakes, giveaways, or any promotion where a winner is randomly selected – cannot require a purchase (i.e., consideration) for the chance to win a prize. This is important for many businesses who use promotions to attract new customers.
So, why does it seem that fantasy football is different?
You can't miss the ads on ESPN, CBS, Fox Sports, among many others, encouraging you to go online and win tons of money playing fantasy football, baseball, and hockey, among others. According to one commercial, one lucky player won $2 million with just a $35 investment. Does this sound like gambling? Essentially all state laws define gambling (or an illegal lottery) as a game where (i) prize, (ii) chance, and (iii) consideration are present. At first blush, a fantasy sports league has all of these attributes – a player pays money for the chance to win even more money by picking different athletes who, through their onfield efforts and a detailed scoring system, accumulate the most points.
It turns out that the federal government passed a law in 2006 called the Unlawful Internet Gambling Enforcement Act (UIGEA) which declared online gambling illegal, but expressly carved out fantasy sports leagues. The key is that the winning outcomes must be based upon skill. Skill contests, such as writing the best essay, creating the best jingle or taking the best photograph, are legal because the winner selection is not based on chance (one of the three elements that must be present for an illegal lottery). According to the UIGEA, "all winning outcomes reflect the relative knowledge and skill of the participants and are determined primarily by accumulated statistical results of the performance of individuals … in multiple real-world sporting or other events."
Is it really skill? Can't grandma pick players that just happen to accumulate the most points any given week? Perhaps. The reason a fantasy sports league (arguably) involves skill is that (typically) the winner is determined after a number of different games or over an entire season. While a one-event winner could be determined by pure luck, a person who accumulates enough points over a longer span is typically someone who is able to apply certain skills to making his/her player selections, such as comparing players' stats and knowing which players play better under certain conditions.
If it's legal under federal law, why do leagues void certain states? The voided states depend on the website you play. The most common voided states are Arizona, Iowa, Louisiana, Montana and Washington. But some sites add Arkansas, Delaware, Florida, Michigan, Tennessee and Vermont. It comes down to whether the sites' lawyers believe that fantasy sports would be interpreted as a game of chance under a state's gambling law. (Remember, the UIGEA doesn't say participation in every fantasy sports league involves skill and to date, there has been no decisions definitely declaring a particular fantasy sports league as fitting under the rubric of skill as defined by the UIGEA, which therefore leaves some room for interpretation under particular state gambling laws.)
Fantasy sports leagues have recently become a big business. The estimated annual spending on fantasy sports is approximately $26 billion (with a "B"). The company Fan Duel has over 1 million players and boasts awarding over $1 million per day. States like Iowa and Washington are considering changing their more-restrictive gambling laws to try to take advantage of this lucrative business. But the recent scandal involving an employee of the site Draft Kings who allegedly used insider data to win $350,000 on rival site FanDuel may not endear fantasy sports leagues to legislators and may illicit more scrutiny from state regulators. For now, fantasy sports leagues are legal almost everywhere in the US (depending on which site you're on).
If you have questions about your company's promotional activities, contact Robert Laplaca, Chair of Verrill Dana's Promotions Law Group.