Madness or Badness: Is Your Office NCAA Pool Illegal?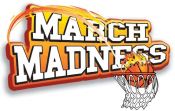 It doesn't matter whether you know a basketball from a hockey puck or a three-point play from a five course meal, every March, office works across the country dutifully fill out their NCAA basketball tournament pool brackets, kick in five dollars, and hope against hope that their months-long lack of interest in college hoops is somehow an advantage in selecting the winners in 67 games. Does anyone stop to ask whether this office bracket challenge is even legal?
The answer is not a simple one. In a traditional office pool where each entrant pays to play and the winners share the pot, the answer depends on your state's gambling laws. In most states, these pools would be considered illegal. But some state statutes actually carve out an exception where the "house" is not taking a cut of the entry fees or where it is incidental to a bona fide social relationship. For example, in Connecticut, "gambling" includes risking money for gain contingent upon chance. By statute, gambling is a criminal misdemeanor except if it involves natural persons and is not considered "professional gambling." The term "professional gambling" is defined as collecting money "for profit," that is, keeping some of the money wagered by the participants. The Connecticut gambling statute also expressly carves out an exception for a pool run by a natural person, involving natural persons, "which is incidental to a bona fide social relationship." Arguably, a typical office pool would be included within this exception too. Maine similarly carves out "social gambling", which includes activities where the participants only receive their personal gambling winnings and the person running the pool does not receive any profits.
You must also consider whether an office pool is an illegal lottery under state law. Traditionally, a lottery involves three elements: prize, chance and consideration. One of these elements must be taken out to be acceptable. Companies running sweepstakes typically remove the consideration element and allow entries with "no purchase necessary." Skill contests are also exempt by taking out the chance element and the winners are selected based on a defined skill. The question here would be whether selecting the winners in an NCAA tournament pool is considered a skill. The federal government has specifically recognized that a multi-game activity, such as a fantasy sports league, can involve skill, that is, the more skilled players are better able to select winners over time. An argument can be made that this applies to a 67-game basketball tournament too, but as we all know, it isn't unusual for that worker who never watched a college basketball game all year to win the office pool.
Thankfully, government authorities are not known to knock down your office doors to haul away the staff – if they were, the national GDP would drop precipitously. But there is one government agency that does care – the IRS. Yes, winnings from an office pool are taxable and must be declared. If you are concerned, check with your local state laws and keep the pool local, small, and on paper because there are at least three Federal laws that may prohibit online pay-to-play pools. Good luck on your pool (and possibly evading the law!).
If you have any questions about whether your company's external promotional activities comply with state or federal law, please contact Rob Laplaca at [email protected]. For questions about how to manage your employees' productivity (or lack thereof) during March Madness, contact a member of Verrill Dana's Labor & Employment Department.