Please Don't Endorse Our Product Anymore: The Morals Clause Edition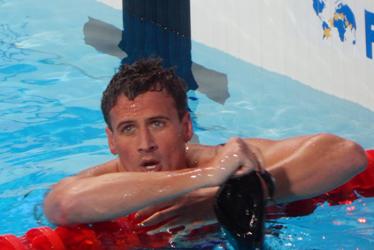 Unless you've Rip Van Winkled for the past month, lost your television/iPhone/iPad, or simply given up on international competitive athletics to instead focus on the Cubbies' chase for an elusive World Series Crown, you know that US Olympic Swimmer Ryan Lochte's "over exaggeration" will cost him over $1 million in endorsement deals. While his contracts with these brands are secret, we can suppose that he's out because a morals clause was in his contracts.
A "morals clause" is standard in any endorsement contract. The Court of Appeals for the Second Circuit has said: "Morals clauses have long been held valid and enforceable." Nader v. ABC Television, Inc., 150 F. App'x 54, 56 (2d Cir. 2005). The seminal case that triggered morals clauses in the entertain industry was that of Roscoe Arbuckle (better known by the improper body-shaming sobriquet "Fatty"), who in 1921 after inking a 3-year/3-million contract with Paramount was arrested on rape and murder charges. While his contract did not have a morals clause, Universal Pictures soon made sure that their talent contracts did. Soon after, moral clauses were often used – and upheld – in the 1950s by Hollywood studios to fire suspected communists. More recently, the issue of moral clauses was raised with Tiger Woods, Charlie Sheen and boxer Manny Pacquiao who lost his lucrative deal with Nike. Nike had also previously broken ties with athletes Lance Armstrong, Ray Rice, Adrian Peterson and Oscar Pistorius for their morally-challenging conduct.
Moral clauses are important to brands, since studies have shown that celebrity endorsers very favorably affect consumers' decisions. Therefore, once a celebrity's morals are questioned, the brand name is besmirched. There are some variations of a morals clause, but the key points are typically: (i) The brand wants complete discretion (ii) to immediately terminate or suspend the endorser (iii) in the event the endorser becomes the subject of public dispute, contempt, scandal, etc.
Typical points of negotiation are (i) the time within which a brand has to make a decision; (ii) whether and when the lesser punishment of suspension is invoked; (iii) whether the brand can get back payments made, withhold payments or have to continue to pay after termination; (iv) whether the brand is entitled to compensation from the endorser; and (iv) of course, just what type of behavior is actionable. Some untoward behavior can be specific: conviction of a felony, accused of a crime involving moral turpitude, etc., while other behavior leaves much to the discretion of the brand: "public disrepute," "conduct deemed offensive to the general public" or "conduct that tends to embarrass, offend, insult or denigrate individuals or groups." Providing in the contract that the brand has the discretion to make (or not make) these determinations will help sustain its decision should the application of clauses be in dispute.
Two other points worth mentioning.
First, morals clauses are also a good idea in charitable donation agreements. Seton Hall named a building after Tyco CEO Dennis Kozlowski after his multi-million donations, but before his grand larceny convictions. Thankfully, Mr. Kozlowski voluntarily agreed to remove his name from the building. Other universities have likewise endowed chairs and named buildings and football fields in return for donations from individuals, who later flunked the morals test. See, for example, the Enron Professor of Economics at Nebraska and the Kozlowski Endowed Professorship of Ethics at Cambridge. I kid you not.
Second, don't forget about reverse morals clauses. Who's to say that only the endorser may get into hot water? Not Pat Boone, who essentially created the first known example of the reverse morals clause to protect his squeaky-clean image when his record company signed a deal with John and Yoko to produce a provocative record cover (specifically, a nude J & Y).