Myth Buster: Employees Do Not Have to Be Affiliated With An Organized Religion to Be Entitled To A Religious Accommodation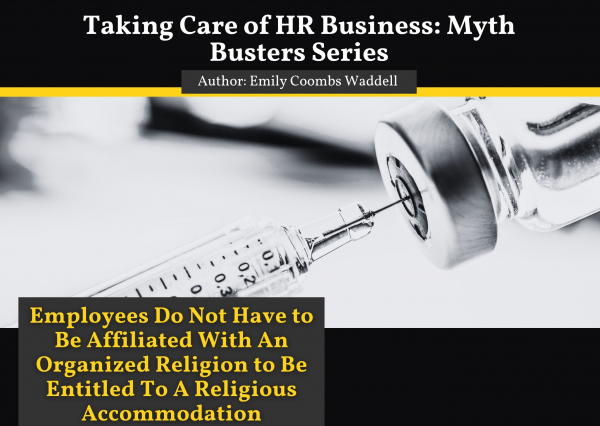 This is the third in a series of posts from Verrill with the purpose of helping to dispel myths that are currently circulating concerning employment laws and rules related to COVID-19 and vaccine mandates.
A myth we have been hearing from clients and friends is that in order for employees to be exempt from vaccine mandates for religious reasons, the employee must belong to a religious group that opposes the COVID vaccine. However, under Title VII, employees are entitled to religious accommodation regardless of whether they are a part of an organized religion.
To provide some context, under Title VII, employers are required to reasonably accommodate an applicant's or employee's sincerely held religious belief or practice, unless doing so would result in an undue hardship for the employer's business. 42 U.S.C. §2000(e)(j). But what is a sincerely held religious belief?
It may surprise some readers that a sincerely held religious belief does not have to be affiliated with a formal religion. The agency responsible for enforcing Title VII, the Equal Employment Opportunity Commission (EEOC), states "The law protects not only people who belong to traditional, organized religions, such as Buddhism, Christianity, Hinduism, Islam, and Judaism, but also others who have sincerely held religious, ethical or moral beliefs."[1] Accordingly, employees can have a valid religious belief under Title VII even if they are the only person who has this belief.
Further, employers may not deny an employee a religious accommodation because the employer believes the religious belief to be unreasonable, incorrect or implausible. For example, if an employee refused to receive the vaccine because they believed the vaccine would violate their religious belief of "my body is a temple", but the employer was aware that the employee regularly participated in activities that objectively harmed their body, like excessive alcohol consumption or drug usage, the employer cannot deny an accommodation based on that contradictory fact alone.
Even if employees are affiliated with a religious organization, it is important to note that employers can't deny an accommodation because the leader of that organization has a different belief than the employee. See EEOC v. Consol Energy Inc., 860 F.3d 131 (4th Cir. 2017). For example, a Catholic employee could have a religious belief that they are unable to receive any of the COVID vaccines due to concerns about their contents, even if the Vatican has issued statements indicating the overall moral duty is to receive a vaccination.
Additionally, Atheist employees have been found to have sincerely held religious beliefs and accordingly are protected under Title VII. See Reed v. Great Lakes Companies, Inc. 330 F.3d 931,934 (7th Cir. 2003) ("If we think of religion as taking a position on divinity, then atheism is indeed a form of religion."), EEOC v. Townley Eng'g & Mfg. Co., 859 F.2d 610, 614-21 (9th Cir. 1988) (employer must accommodate an employee's atheism; no undue hardship because excusing employee from services would not have cost anything nor caused a disruption), Young v. Sw. Sav. & Loan Ass'n, 509 F.2d 140 (5th Cir. 1975) (finding Title VII violated by requiring atheist employee to attend prayer portion of business meeting).
When evaluating whether an employee's religious belief is sincerely held, it is important for employers to err on the side of caution and remember that there is not an extensive list of criteria a belief must meet in order to be protected by Title VII.
This information is current as of October 13, 2021. For more information, please contact Emily Coombs Waddell or another member of Verrill's Employment and Labor Practice Group.