Breaking: OSHA Releases Emergency Temporary Standard for Employers with 100 or More Employees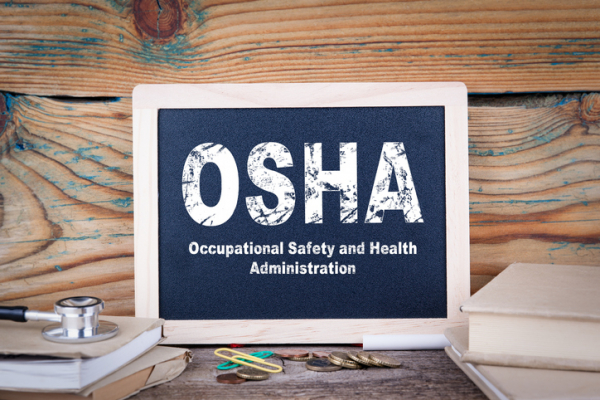 IMPORTANT UPDATE- 11-11-21
The federal court of appeals for the Fifth Circuit has suspended OSHA's Temporary Emergency Standard in response to a lawsuit filed last Friday by a number of Plaintiffs, which included the States of Texas, Louisiana, Mississippi, South Carolina, and Utah. The Court cited "grave statutory and constitutional issues" with OSHA's new rule.
Because similar challenges to the rule were filed in other federal courts of appeal, the federal court system will consolidate all these cases in one circuit court. The decision regarding which court will end up hearing these cases will be made on or about November 16. The court that ends up with these cases will have the authority to continue or lift the stay while the case is litigated. In light of the current suspension of the rule, employers should continue to monitor the situation to determine whether the original timelines for enforcement are revived.
The Fifth Circuit's suspension of OSHA's new rule does not affect the federal vaccine mandates for federal contractors or employers receiving Medicaid funding.
---
Indicating that continued reliance on the General Duty Clause of the OSH Act, 29 U.S.C. 654(a)(1), was insufficient to protect "unvaccinated employees from the grave danger of being infected by, and suffering death or serious health consequences from, COVID-19," today OSHA issued an Emergency Temporary Standard (ETS) for all employers with 100 or more employees.
The ETS provides the following requirements:
Employer Policy on Vaccination: Organizations must develop, implement, and enforce a mandatory COVID-19 vaccination policy. The policy must include an exception that employees who are not fully vaccinated may elect to undergo weekly COVID-19 testing and wear a face covering in the workplace.
Determination of Employee Vaccination Status: Employers must obtain proof of vaccination status and maintain records of each employee's vaccination status as well as a roster of each employee's vaccination status.
Employer Support for Employee Vaccination: Employers must provide up to 4 hours of paid time to receive each vaccination dose and reasonable time and paid sick leave to recover from side effects experienced following each dose.
COVID-19 Testing for Unvaccinated Employees: Unvaccinated employees must be tested for COVID-19 at least weekly or within 7 days of returning to a workplace if the individual has been away from the work location for a week or longer.
- The employee can be required to pay for costs associated with testing UNLESS the employer is required to provide payment under other laws, regulations, or collective bargaining agreements.​​​​​
Face Coverings: Unvaccinated employees must wear a face covering when indoors or in a vehicle with a person for work purposes. Vaccinated employees cannot be prevented from wearing a face covering unless it creates a serious workplace hazard.
Employee Notification of a Positive COVID-19 Test and Removal: Organizations must have a policy and practice that includes the following:

Requires employees to promptly provide notice when they receive a positive COVID-19 test or are diagnosed with COVID-19;
Immediately remove an employee from the workplace (regardless of vaccination status) who tests positive for COVID-19 or is diagnosed with COVID-19; and

Keep the employee out of the workplace until they meet the criteria to return to work.

Notice to Employees: Employees must be provided with information about the ETS standards, employer policies and procedures related to ETS implementation, "Key Things to Know About COVID-19 Vaccines" (available here), information as to protection against retaliation and discrimination, and information concerning criminal penalties for knowingly supplying false statements or documents.
Reporting of COVID-19 Fatalities and Hospitalizations: Employers must report work-related COVID-19 fatalities to OSHA within 8 hours of learning of the fatality. Work-related in-patient hospitalizations must be reported to OSHA within 24 hours of learning of the hospitalization.
Information Sharing: Employers must make available to the employee their own COVID-19 vaccination documents and any COVID-19 test results. Additionally, employers must provide (if asked) the number of fully vaccinated employees at the workplace along with the total number of employees at that workplace.
Most Common Questions (and Answers):
When does the ETS go into effect? Tomorrow, November 5, 2021 however employers have until December 5 to implement all of the above standards, aside from the vaccination or testing mandate, which employers have until January 4, 2022, to implement.
What is OSHA's authority to issue this ETS? Section 6(c)(1) of the OSH Act provides that the Secretary "'shall issue an emergency temporary standard (ETS) upon a finding that the ETS is necessary to address a grave danger to workers." The ETS takes immediate effect upon publication in the Federal Register if the Secretary determines that: 1) employees are exposed to grave danger from exposure to substances determined to be physically harmful; and such emergency temporary standard is necessary to protect employees from such danger. This rule "preempts any state occupational safety or health standard" that relates to the same occupational safety or health issue that is set forth in the federal standard but does not preempt state laws of "general applicability" that relate to non-workers and workers, as long as the general applicability statute does not conflict with the OSHA standard.
What does "100 or more employees" mean? "This ETS applies to employers with a total of 100 or more employees at any time the standard is in effect," noting a belief that entities of this size "have the administrative capacity to implement the standard's requirements promptly," but a concern that smaller employers would be unable to do so without undue disruption.

The location of the workforce does not matter, nor does the part-time or full-time nature. If your organization has 150 employees (25 employees at 6 locations) employed on a part-time basis, each employee is counted and the ETS is applicable to your organization.
Determination is made as of the effective date of the ETS. If your company has 100 employees as of November 5, 2021, the ETS will apply for as long as the ETS is in effect (even if you later have 94 or 60 employees). If you have fewer than 100 employees on November 5, 2021, but increase to over 100 employees while the standard is still in effect, the company will then be required to comply with the ETS and even if the number of employees drops below 100 employees, the standard continues to apply for the remainder of the time the standard is in effect, regardless of fluctuations in the size of the employer's workforce.

Are there any exemptions to the ETS? Yes:

If your organization is covered by the Healthcare ETS, this ETS does not apply to your organization;
If your organization is covered by the Safer Federal Workforce Task Force COVID-19 Workplace Safety Guidance for Federal Contractors and Subcontractors this ETS does not apply to your organization;
If your organization has workers who do not report to a workplace where other individuals are present or who exclusively teleworks from home, this ETS does not apply to your organization; and
Workers who perform their work exclusively outdoors.

Do individuals who work from home count towards the 100 employees? In determining whether an organization has 100 employees, it must count those who work from home, but the standards do not apply to employees who work exclusively from home. The standard does apply, however, to employees who work in a corporate location for any period of time or in any capacity.
Do Independent Contractors count as employees? No.
Do individuals working from staffing agencies count? No. If your organization has 80 employees and uses 30 workers from a staffing agency, the ETS is not applicable to the organization.
My organization is a federal contractor covered by the Safer Federal Workforce Task Force COVID-19 Workplace Safety Guidance for Federal Contractors and Subcontractors; does the ETS apply to my organization? No.
My organization is a health care setting covered by the Healthcare ETS; does this updated ETS apply to my organization? No. If your organization is a healthcare provider covered under the Healthcare ETS, those requirements continue to apply, but the current ETS is not simultaneously applicable.
If an employee has already had COVID-19, do they need to provide proof of vaccination or be tested weekly? Yes. OSHA does not provide an exemption for individuals who were previously infected with SARS-CoV-2 and does not allow for proof of prior infection or antibodies in lieu of proof of vaccination.
Are only employees requesting a medical or religious exemption entitled to the testing alternative? No, the employer's may make this alternative available to all employees.
What to Do Now:
Determine if your organization is subject to the ETS based on the number of employees at your organization and/or whether another ETS already applies.
If your organization is subject to this ETS,, review and amend current policies and practices to comply with these updated vaccination and testing standards.
Determine if there are local or state laws that may apply to the employee testing provision of the policy to determine who will be responsible for the costs associated with weekly testing.
Begin outlining a communication strategy to employees regarding expectations and deadlines and providing required notices.
Create a secure and confidential process for collecting, storing, and maintaining vaccination and testing documentation from employees.
For more information on best practices in complying with OSHA's ETS, contact a member of Verrill's Employment and Labor Practice Group.