Roses are Red, Violets are Blue, Greeting Card Giant Settles Class Action Suit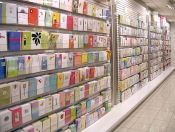 Last week American Greeting Corporation settled a wage and hour class action under the FLSA and California state wage and hour laws in Smith v. American Greetings Corp., No. 3:14cv02577 (N.D. Cal. Jan. 29, 2016). Additionally Plaintiffs brought claims under the California Private Attorneys General Act which permits litigants to act as representative plaintiffs without court ordered class certification. The action was brought on behalf of 3,743 field sale operation employees in California. The class action alleged that employees were not fully reimbursed for mileage, meals and mobile phone expenses that were associated with travel to work sites. The class members were responsible for maintaining and assembling greeting card displays in well-known retail locations including Target and Rite-Aid. American Greeting Corporation settled for $4 million which was approximately 20 percent of what the workers would have been entitled to if every claim had been successful at trial.
As we have previously discussed, wage and hour class actions can have a significant impact on company's bottom lines. Accordingly, it remains extremely important that employers continuously audit their wage and hour practices to make sure they are following best practices. If you have questions about compensable or non-compensable time, give a member of Verrill Dana's Labor & Employment Practice Group a call to further discuss.