Supreme Court to Review "Service Advisors" Entitlement to Overtime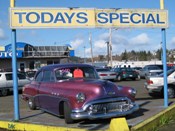 On Friday, the United States Supreme Court granted certiorari in a case where it will determine "whether 'service advisors' at car dealerships are exempt . . . from the FLSA's overtime pay requirements." Up for review is the Ninth Circuit's decision in Encino Motorcars, LLC v. Navarro, No. 13-55323 (9th Cir. Mar. 24, 2015), in which the Ninth Circuit found that Mercedes Benz "service advisors" did not personally service automobiles and therefore were not subject to the overtime exemption. The "service advisors" instead, "meet and greet Mercedes Benz owners as they enter the service area of the dealership and then . . . evaluate the service and/or repair needs of the vehicle owner in light of complaints given them by these vehicle owners." The plaintiff employees were paid on a commission basis only, receiving neither hourly wages or a salary.
The FLSA overtime pay provision in question provides that overtime for employees who work over forty (40) hours in a workweek, does not apply to: "any salesman, partsman, or mechanic primarily engaged in selling or servicing automobiles, trucks, or farm implements, if he is employed by a nonmanufacturing establishment primarily engaged in the business of selling such vehicles or implements to ultimate purchasers".
The Ninth Circuit noted, "It is not clear from the text of the statute whether Congress intended broadly to exempt any salesman who is involved in the servicing of cars or, more narrowly, only those salesmen who are selling the cars themselves." Instead, the court relied upon a 2011 Labor Department regulation that noted that service advisors do not fall within the exemption because they are not personally servicing automobiles. That regulation defined salesman as "an employee who is employed for the purpose of and is primarily engaged in making sales or obtaining orders or contracts for sale of the automobiles, trucks, or farm implements that the establishment is primarily engaged in selling," while a partsman is "any employee employed for the purpose of and primarily engaged in requisitioning, stocking, and dispensing parts," and a mechanic is defined as "any employee primarily engaged in doing mechanical work (such as get ready mechanics, automotive, truck, or farm implement mechanics, used car reconditioning mechanics, and wrecker mechanics) in the servicing of an automobile, truck or farm implement for its use and operation as such." 29 C.F.R. § 779.372(c). In concluding that "service advisors" were not covered by this exemption, the Ninth Circuit acknowledged that the holding conflicted with rulings in "the Fourth and Fifth Circuits, several district courts, and the Supreme Court of Montana," all of which have held that service advisors are exempt employees. Other courts have refused to defer to the Department of Labor's "counter-textual interpretation" of the FLSA exemption which limits salesmen to only those who sell cars and not those who sell (or up sell) services.
For our vehicle dealership clients and friends who are currently categorizing all sales associates (in both the service center and the dealership) as exempt employees, the Supreme Court's decision to grant certiorari on this issue could potentially affect overtime requirements as to a significant portion of your service sales force. Verrill Dana's Labor and Employment Practice Group will keep clients advised when the Court rules on this issue.