Co-Workers with Zenefits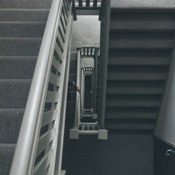 Apparently it is going to be a lot less fun to work at Zenefits, a health insurance brokerage start-up, than it used to be. A month ago, David Sacks, the aptly named CEO of Zenefits, banned alcohol in the workplace. Apparently, occasionally co-workers would gather in the office to drink a shot when an employee signed a particularly large account. Mr. Sacks, however, noted that "it is too difficult to define what is 'appropriate' versus inappropriate drinking in the office." Interestingly, this isn't the first time the employees of Zenefits have had their workplace hijinks curtailed. Last June, in an internal memorandum from the company's director of real estate and workplace services, employees were told to cut out the foolishness in the building stairwells, lest they be prohibited from using those stairwells. Ms. Emily Agin's memorandum noted, in part:"It has been brought to our attention by building management and Security that the stairwells are being used inappropriately....Cigarettes, plastic cups filled with beer, and several used condoms were found in the stairwell. Yes, you read that right. Do not use the stairwells to smoke, drink, eat, or have sex. Please respect building and company policy and use common sense..."
There was no clear indication of how Security knew it was the Zenefits team who were using the stairwell as one big Den of Iniquities, but apparently, something gave them away. While one has to feel sorry for the kids at Zenefits who once had the run of the place, this provides a "teachable moment": What happens in Vegas surely stays in Vegas but unless you want to open your company to a veritable buffet of legal risk, it is a good idea to cultivate a workplace atmosphere devoid of any of the Seven Deadly Sins. If you require assistance with this or any other task related to employment or labor law, contact the team at Verrill Dana.