Dear John, Number Two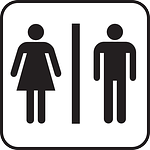 Loyal blog readers may recall our post last August reporting on an Ohio company that required its workers to swipe into and out of the restroom at work, so as to monitor the amount of time spent on bathroom breaks. Predictably, that policy was not one tolerated by the workers, leading to a charge filed with the National Labor Relations Board.1 One might have thought that case was an outlier, an aberration, reported upon simply because our puerile sense of humor couldn't help but share it with all of you. And, while you would be right in part, it seems that the issue of paid bathroom breaks apparently is more widespread than one might think at first flush.
American Future Systems, Inc., a Pennsylvania-based company that produces business publications (including one entitled "Keeping Up To Date On Payroll") has until Thursday, January 7 to come up with a plan to effectuate the payment of $1.75 million it owes to 6000 present and former employees in back pay and damages as a result of its policy requiring employees to clock out for short breaks, including bathroom breaks. The policy, issued in 2009, stated that the telemarketing employees could take "personal breaks at any time for any reason", but further stated that the breaks would be unpaid. As readers may know, the Fair Labor Standards Act does not require employers to offer short personal breaks, breaks of 20 minutes or less. But if short rest breaks are offered, federal regulations do require that the time be paid.2 American Future Systems, Inc. refused to reverse its break policy even after being notified by the Department of Labor that it viewed the policy as resulting in a violation of the regulations and resulted in wages below minimum wage. The Company defended its policy arguing that the employees were "completely relieved from duty" and were free to "use the time effectively for" non-work, personal purposes, citing 29 C.F.R. §785.16, which allows for unpaid breaks in duty when an employee is able to use the time for purely personal endeavors. The Court respectfully disagreed.
The lesson for all of us, beyond the fact that using the restroom, while certainly personal business, is not the type of personal business contemplated as unpaid time by the folks at Wage and Hour, is that when the Department of Labor tells you to pay for bathroom breaks, it is probably a good idea to do so. Unless, of course, you want your business to go to the crapper.
For more useful labor and employment advice, please feel free to contact any of the members of our Labor & Employment Group.
1 The NLRB, in August, issued a Collyer deferral letter, sending the parties back to resolve the dispute via the collective bargaining grievance process rather than ruling on the dispute.
2 "Rest periods of short duration, running from 5 minutes to about 20 minutes, are common in industry. They promote the efficiency of the employee and are customarily paid for as working time. They must be counted as hours worked." 29 C.F.R. §785.18.