Federal Vaccine Mandates – What We Know and What We Don't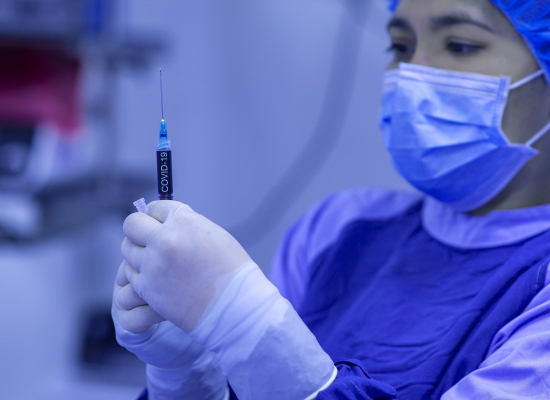 On September 9, President Biden announced plans to require that federal workers, federal contractors, and employees of employers with 100 or more employees are vaccinated or tested weekly for COVID-19. The Occupational Safety and Health Administration and the Safer Federal Workforce Task Force have been tasked with drafting regulations to effectuate the President's initiative, and, on September 24, 2021, the Safer Federal Workforce Task Force issued guidance as to the mandate for federal contractors and subcontractors. Based on that guidance, here are key takeaways that employers subject to federal contracts should note:
Applicability: All contract and contract-like instruments entered into with the federal government must include a mandated vaccination clause (as well as other requirements). Such clauses must be included in all lower-tier contracts entered into for a project as well. The requirements must apply to "all covered contractor employees, including contractor or subcontractor employees in covered contractor workplaces who are not working on a Federal Government contract or contract-like instrument."
Obligations: Federal contractors and subcontractors must adhere to the following protocols:

COVID-19 vaccination of all employees (except in limited circumstances where employee obtains an accommodation as a result of a health condition or sincerely held religious belief);
Compliance by individuals (including contractor employees and visitors) concerning masking and physical distancing in the workplace; and
Designation of a person to coordinate COVID-19 workplace safety efforts at covered workplaces.
OSHA has yet to release guidance on requirements for employers with 100 employees or more. While we wait for draft regulations, there are many questions that have yet to be answered regarding the mandate. For example:
How will the 100-employee threshold be interpreted? Will it be based on a certain time period or employee tenure? How might seasonal employers be affected?
Will employees working remotely be required to be vaccinated or tested weekly?
How will employers verify a worker's vaccination status?
Will boosters be required for employees who are already vaccinated?
How will religious or disability exemptions permitted?
How will the mandate impact employer incentive or penalty programs for employee vaccinations?
Another important and currently unanswered question is who will bear the burden of paying for weekly testing for employees who decline to get vaccinated? For this question, state law may play a determinative role in the answer. Some states, including Maine, have laws specifically addressing whether an employer or employee must pay or not pay for a medical examination. For example, Maine law prohibits an employer from requiring an employee to bear the expense of a medical examination when that examination is ordered or required by the employer. Because a COVID-19 test likely constitutes a medical examination, Maine employers probably could not pass on the cost of mandated testing to employees without risking compliance with Maine wage and hour laws. Even if your state does not have a law governing payment for medical examinations and the federal mandate permits payment by employees, employers must still be cognizant of other wage and hour laws, such as those governing permissible paycheck deductions, in relation to employee payment for weekly testing.
We will update our guidance as more information becomes available. In the meantime, please feel free to contact a member of Verrill's Employment and Labor Group with any questions.