A lot of exciting things are happening at Verrill.

Originally located at One Boston Place, we recently moved our office to One Federal Street to better accommodate our growing Boston team.


We are listed among both the Boston Business Journal's and Massachusetts Lawyers Weekly's "100 Largest Law Firms in Massachusetts."
Some of the firm's newest Boston attorneys have shared:
"Since joining Verrill, I have been amazed by how collaborative the firm is… It is clear to me, and to the clients that I serve, that Verrill embodies the value of teamwork."

"I came to Verrill because I was excited by the opportunity to do challenging, high-quality work for industry leading clients with colleagues who genuinely enjoy both their work and collaborating with and supporting each other."

"I joined Verrill because I was impressed with the firm's growing commitment to Boston and expansion of its presence in IP and IP litigation that some of the larger firms are either ceding or not able to compete in."

___________________________________________________________________________________________________________
Did You Know?
Top Women in Law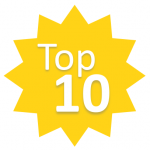 More than half of the female attorneys at Verrill are partners. Verrill has been recognized as one of the top ten law firms in the U.S. for female partners in the 2019 Law360 "Glass Ceiling Report." Verrill was also recognized in the top ten law firms in the U.S. for gender equality in the 2018 National Law Journal "NLJ 500 Women's Scorecard."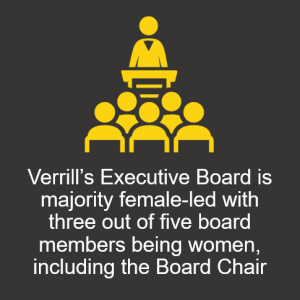 Many leadership roles at Verrill are filled by women, including practice group and committee chairs, as well as members of the firm's Senior Administrative Team and Executive Board.
Award Winning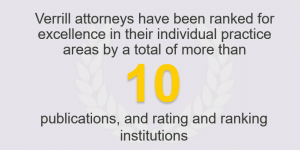 Global Connections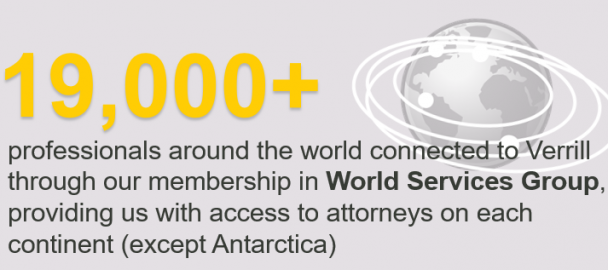 Verrill has seven offices throughout the Northeast. In addition to serving clients locally and regionally, Verrill attorneys work with clients across the country and around the globe.