Experience
Oakhurst Dairy: The Natural Goodness of an Enduring Legacy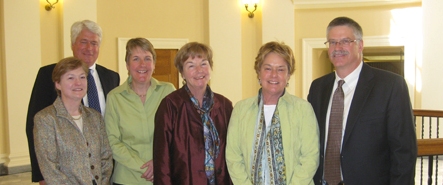 The Bennett Family
L to R: Jean Bennett Driscoll, William P. Bennett, Mary Ellen Bennett Tetreau, Priscilla Bennett Doucette, Althea Bennett McGirr, John H. Bennett
When Stanley T. Bennett opened Oakhurst Dairy in 1921, he laid the groundwork for what would grow to become an iconic multi-generational family-owned business with a reputation for innovation, community service and environmental stewardship. His family successfully ran the business for three generations. In 2013, the family made the decision to sell the company to Dairy Farmers of America, Inc. (DFA), a $12 billion cooperative. A team of Verrill attorneys worked closely with the Bennetts throughout the complex merger negotiations which lasted more than six months and involved multiple potential acquirers. Many legal issues required attention beyond the agreement negotiations, and Verrill had the breadth and depth of experience to take them on. Our team provided counsel relating to federal antitrust review, taxation and benefits issues, intellectual property, environmental permitting and real estate interests.

Oakhurst's numerous dairy products have been a household staple in New England for generations. The Bennett family was thrilled to have the partnership opportunity presented by DFA, with its national presence, complementing culture and values, and financial strength. As a result of the sale, none of Oakhurst's 200 employees lost their jobs, the company will continue to get its milk from the 70 independent Maine farmers who supply Oakhurst's milk, and the integrity of the product will be maintained. Verrill was honored to work with this iconic company in ensuring its legacy will endure and the dairy will remain a vibrant member of the local economy for generations to come.
Cash Balance Conversion of Pension Plan
Eric Altholz worked with long time client Maine Medical Center to convert its defined benefit pension plan to a cash balance plan. This complex project took many months and included a complete restatement of the plan document, extensive written communications to employees, and both corporate and fiduciary governance processes. Eric worked closely with the hospital's senior HR staff and in-house counsel, as well as actuaries and consultants at Towers Watson throughout the project.
Commercial Health Insurance Product
Our client, a diverse health care company that offers both health plans and primary care services, sought our assistance in developing and implementing an innovative health care benefit product for an association of employers. Toward that end, attorneys at Verrill assisted in creating and licensing a captive insurance company, third party administrator, and preferred provider network. This comprehensive licensing process involved analysis and advice with respect to multiple filings with the Maine Bureau of Insurance; analysis of ERISA and State insurance laws related to enrollee disclosures, plan design, plan document preparation, and plan administration (including policy review); all aspects of intellectual property protection, provider contracting, and network adequacy; and included extensive work surrounding HIPAA and health information technology. In essence, we were intimately involved in building a commercial health benefit plan from the ground up.
Fiduciary Governance Structure for ERISA Plans
Eric Altholz was asked to review this client's fiduciary governance structure and recommend any changes needed to enhance the fiduciary compliance status of the organization with respect to ERISA plans. This project ultimately involved the preparation board and committee resolutions implementing changes to the fiduciary governance structure, the preparation of a new plan administrative committee charter and extensive education of plan fiduciaries regarding their obligations under ERISA. Since that time, this organization has become a core employee benefits and executive compensation client of the firm.
HeadInvest: Management Buyout
Androscoggin Savings Bank bought HeadInvest, an investment advisory firm, and held it as a wholly-owned subsidiary for many years. It decided that the business was not a good fit for it and agreed to sell the business to the then-existing management. We advised the management group on establishing an acquisition vehicle, negotiating a new lease for office space and in negotiating and closing the deal (including seller financing).
Restatement of Change in Control Agreements
Although this publicly traded company uses a large Boston law firm for M&A and corporate securities work, Verrill's has served as the company's employee benefits and executive compensation legal adviser for more than 12 years. The company turned to Eric Altholz to review and update its executive change in control agreements. This project involved both highly technical analysis of applicable tax law, as well as extensive work with the company's senior HR staff and in-house counsel to assure that the company's goals were met within the compliance parameters that apply to these arrangements.
Sale of Medicaid Managed Care Plan
We represented our client in the sale of assets of a 501(3) tax exempt Medicaid managed care plan to a 501(c)(4) Managed Care Plan.
Our representation of this client involved providing advice throughout the negotiation on corporate, labor, benefits and regulatory issues. Members of Verrill's Labor & Employment, Employee Benefits & Executive Compensation and Health Care Groups worked in conjunction with the M&A Group on the matter.
Sale of Teaching/Community Hospital
We represented this client in the sale of their teaching/community hospital to the teaching hospital of a major university. Our client has annual sales over $500 million. An interesting aspect of this matter is that it involves the sale of a Catholic institution to a secular academic medical center, while maintaining the Catholic heritage on the client's site.

We are representing our client on corporate, Catholic, employee benefit and related issues. Verrill's Labor & Employment, Bankruptcy, Employee Benefits & Executive Compensation and Health Care Groups are working in conjunction with the M&A Group on this matter.