Experience
FERC Hydro License Compliance
Represented ENEL, an international leader in hydro power, before FERC in defending against a formal Section 206 Complaint by the City of Lawrence, Massachusetts, and various abutters, alleging that ENEL North America has violated the terms of its FERC hydro license by failing to maintain and repair the canals along the Merrimack River.Verrill successfully obtained a letter order from Commission Staff dismissing the complaint. After Complainants filed a request for rehearing, Verrill successfully opposed the request and obtained an order from the Commission denying in full the request for rehearing.
Enforcement
Verrill has negotiated and litigated with federal, state, and local entities to resolve violations related to coastal development, including homes, docks, seawalls, shoreland clearing, and commercial fishing operations. We have also negotiated beach management agreements to balance coastal property rights with protection of federal and state endangered species.
Shoreland Zone Development and Land Use
Verrill represents landowners and developers in siting structures in the shoreland zone and ensuring compliance with the restrictions that govern shoreland zone clearing and development. We have worked with numerous landowners to resolve enforcement matters related to tree clearing and placement of structures on oceanfront and lakefront properties. We have worked on behalf of developers to get towns to amend their shoreland zoning ordinances to allow development proceed around otherwise prohibitive wetlands.
Oakhurst Dairy: The Natural Goodness of an Enduring Legacy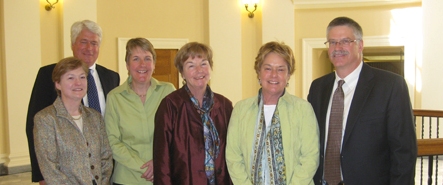 The Bennett Family
L to R: Jean Bennett Driscoll, William P. Bennett, Mary Ellen Bennett Tetreau, Priscilla Bennett Doucette, Althea Bennett McGirr, John H. Bennett
When Stanley T. Bennett opened Oakhurst Dairy in 1921, he laid the groundwork for what would grow to become an iconic multi-generational family-owned business with a reputation for innovation, community service and environmental stewardship. His family successfully ran the business for three generations. In 2013, the family made the decision to sell the company to Dairy Farmers of America, Inc. (DFA), a $12 billion cooperative. A team of Verrill attorneys worked closely with the Bennetts throughout the complex merger negotiations which lasted more than six months and involved multiple potential acquirers. Many legal issues required attention beyond the agreement negotiations, and Verrill had the breadth and depth of experience to take them on. Our team provided counsel relating to federal antitrust review, taxation and benefits issues, intellectual property, environmental permitting and real estate interests.

Oakhurst's numerous dairy products have been a household staple in New England for generations. The Bennett family was thrilled to have the partnership opportunity presented by DFA, with its national presence, complementing culture and values, and financial strength. As a result of the sale, none of Oakhurst's 200 employees lost their jobs, the company will continue to get its milk from the 70 independent Maine farmers who supply Oakhurst's milk, and the integrity of the product will be maintained. Verrill was honored to work with this iconic company in ensuring its legacy will endure and the dairy will remain a vibrant member of the local economy for generations to come.
Buyer Representation: Multiple Timberland Parcels
We represented the buyer in the acquisition of multiple timberland parcels in five counties in central and western Washington, including assistance with bid preparation, due diligence and tax and business-related advice. Ongoing advice related to wood supply agreements and related operational matters, including access issues.
Major Wireless Telecommunications Company: Integration of Acquired Competitor
We represented a major wireless telecommunications company in a reconfiguration of telecommunications infrastructure to allow the integration of recently acquired competitor. We provided leasing, title, environmental and zoning work relating to reconfiguration on expedited basis of approximately 160 telecommunications sites in connection with acquisition of competitor.
Major Wireless Telecommunications Company: Network Build-Outs
We represented a major wireless telecommunications company in network build-outs in Maine. We provided leasing, title, zoning and environmental work associated with acquisition, permitting and build out of 200+ telecommunications sites.
Moody's Collision Center Solar Development
In 2014 and 2015, Verrill Dana advised Moody's Collision Center with respect to its investment in a substantial solar development at Maine Audobon in Falmouth. We provided counsel on the power purchase agreement between Moody's and Maine Audubon, as well as various agreements and warranties underlying the installation of the facilities. Verrill Dana attorneys also advised with respect to tax and real estate matters.
Multi-Disciplinary Representation in Mill Purchase and Regulatory Compliance
We represented the buyer in the acquisition of Domtar Maine LLC, which owns and operates the pulp mill in Baileyville, Maine (also known as Woodland), and continue to represent the mill in regulatory compliance matters. The mill produces about 395,000 metric tons of pulp a year, and is Washington County's largest employer with about 300 employees. It also has significant hydroelectric generating assets, with surplus power being sold to New Brunswick Power.

Verrill acted as co-counsel with O'Melveny & Myers.
Our representation included extensive due diligence and contract negotiation, and we relied upon our extensive experience in real estate, pension and benefits, labor and employment (several unions are involved with the mill), energy (including FERC), environmental law, commercial finance, tax and intellectual property.
Penobscot River Restoration Trust: Project Management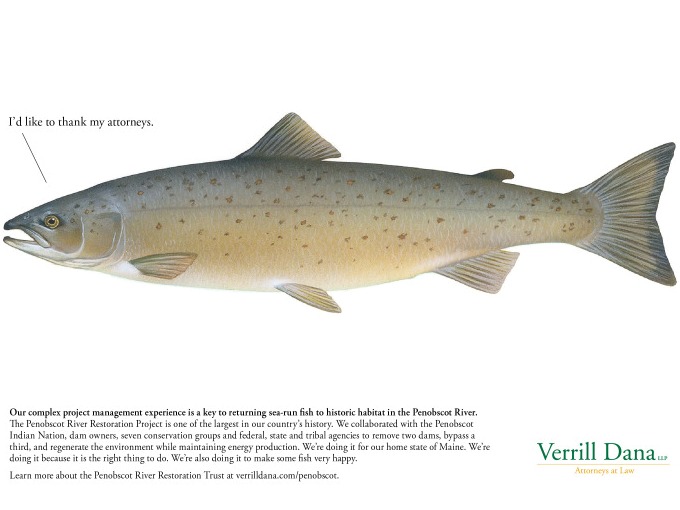 The Penobscot River Restoration Project is one of the largest and most creative river restoration projects in our nation's history. The nonprofit Penobscot River Restoration Trust ("the Penobscot Trust") has worked in collaboration with the Penobscot Indian Nation, seven conservation groups, state and federal agencies, and dam owner Black Bear Hydro Partners LLP, to implement the project to restore 11 species of sea-run fish to the Penobscot River, while also maintaining energy production.* In 2015, the Trust has neared completion of the final stages of this 12-year endeavor. Verrill congratulates all those involved in this historic project.
Successful implementation of the project has revived not only native fisheries but social, cultural and economic traditions of New England's second largest river—the Penobscot. The Penobscot Trust has acquired three Penobscot dams, holds necessary final permits, and is preparing to remove the two closest to the sea – Veazie and Great Works – and construct a fish bypass at the third dam, Howland. At the same time, Black Bear Hydro is, as part of the project, increasing power generation and improving fish passage at several other dams on the river to maintain or increase generating capacity in the system.
Through this reconfiguration of fish migration access and power production, the Penobscot Project has significantly improved access to nearly 1,000 miles of habitat and restore ecological functions of the river while also maintaining hydropower capacity of the river system. Further information regarding this historic project can be found on the Trust's website, www.penobscotriver.org.
Verrill has been pleased to assist the Trust since 2006 with all phases of the restoration project, including drafting of the commercial agreements, national, state and local permitting and regulatory compliance for the decommissioning and removal activities, as well as assistance with strategic planning and dispute resolution. Attorneys from multiple practices, including corporate, real estate, environmental, regulatory, construction, energy and utilities coordinated a multi-disciplinary approach to supporting the Trust's goals and objectives. As a commitment of Verrill to bringing its experience to matters of significant public interest, Verrill contributed extensive in-kind legal assistance to the Penobscot Trust.
* The project has been an uncommonly effective collaboration including PPL Corporation; Black Bear Hydro Partners LLC; Penobscot Indian Nation; the Penobscot Trust, American Rivers, Atlantic Salmon Federation, Maine Audubon, Natural Resources Council of Maine, Trout Unlimited, The Nature Conservancy, federal agencies including the U. S. Department of the Interior [Bureau of Indian Affairs; National Park Service; and U.S. Fish and Wildlife Service (FWS)] and the National Oceanic and Atmospheric Administration (NOAA); the State of Maine including the State Planning Office, Department of Marine Resources and Inland Fisheries and Wildlife; as well as private and public funders; communities; businesses; and numerous others.
Purchaser Representation: 300,000 Acre Timberland Deal
We represented the purchaser in the acquisition of more than 300,000 acres of timberland in Northern Maine, including negotiation of purchase and sale agreement, entity formation, tax advice, loan representation, environmental due diligence and ongoing operational assistance.
Solar Energy Development
Verrill has represented solar energy developers and investors related to multiple projects throughout Maine and Massachusetts. We have provided permitting counsel and due diligence on solar projects ranging from a 1.5-MW micro-grid array in Brunswick to a proposed 100-MW project in the unincorporated area of Hancock County.
TransCanada: Wind Power Permitting
We represented TransCanada on the development and permitting of its wind power projects in Maine. TransCanada's first Maine project, the Kibby Wind Project, is a 132 MW wind power project located in the Western Boundary Mountains of Maine, and an associated 27-mile transmission line connecting the project to the electrical grid. Permitting of the Kibby Wind Project required rezoning and environmental permitting before the Land Use Regulation Commission (LURC), which is the zoning and planning body for Maine's more than 10 million acres of unorganized territories. In addition to permitting before LURC, the project required permits from the Maine Department of Environmental Protection, the U.S. Army Corps of Engineers, and selected local permits. When it was completed, the project was the largest operating wind power project in New England. In 2011, TransCanada was awarded the Environmental Business Council of New England's Outstanding Environmental - Energy Achievement Award for the Kibby Wind Project.

We also represented TransCanada in connection with development and permitting of the Sisk Wind Project, a 33 MW wind power project, in close proximity to the Kibby Wind Project. As a result of wind power legislation passed during 2008, the proposed Sisk Project is located in a newly designated "expedited wind permitting area."
Click below to access specific examples of Real Estate experience related to TransCanada.
Water: Secure Land for a New Water Tank
For roughly one year, Verrill worked with longtime client Gardiner Water District, and its engineering firm Wright-Pierce, to secure land to allow the Water District to construct a one million gallon water tank in Farmingdale. The tank, which will help improve water pressure and the future integration of the Gardiner and Hallowell Water Districts, will be located on the former Kennebec Heights Country Club, which property was purchased by Central Maine Power as part of its Maine Power Reliability Program transmission project. The Verrill team helped the District negotiate with Central Maine Power to acquire the land and finalize the terms of the acquisition. The team also helped the District work with the Maine Drinking Water Program, which is financing a portion of the project using State Revolving Loan Funds. On May 5th, the Drinking Water Program hosted a celebration of project, which represented the 200 millionth dollar of funds disbursed through the SRF program. Verrill helped with the planning of the event, which was chronicled by the Kennebec Journal. The final closing took place approximately two months later.