Experience
Swift Current Energy
Verrill represents the 100-megawatt Three Rivers Solar Project in Hancock County, Maine. Verrill assists the project with real estate and environmental permitting work, including negotiation of a protocol to allow the project to proceed while minimizing potential impacts to upland sandpipers, a state-listed threatened species. The project obtained its combined Site Law and Natural Resources Protection Act permit from the Maine Department of Environmental Protection in July 2020. Three Rivers Solar will become the largest solar project in the state, twice the size of the next largest facility (the 50 MW Sanford Airport Solar project). The project will consist of approximately 300,000 to 400,000 solar panels on 465 acres in the unorganized area of the state.
Kearsarge Acquisition Company, LLC
Verrill represented Kearsarge Acquisition Company, LLC with the purchase and development of a 32 Unit mixed use timeshare condominium with 7 commercial units and 25 residential units divided into 150 fractional interests, located at York Beach, Maine.
Solar Energy: Acquisition of Grid-Scale Project in Brunswick, Maine
Verrill represented Diversified Communications in the acquisition of a newly built $2.5 million solar array in Brunswick, Maine. The array, which was developed by ReVision Energy and went online in January 2018, will provide power to more than 100 businesses at Brunswick Landing. Verrill attorneys advised Diversified Communications on a range of issues in the transaction, including federal debt financing, solar investment tax credits, solar renewable energy credits, electric power sales, EPC contracting, and regulatory, real estate and corporate matters. We worked collaboratively with Diversified Communications and the developer of the project to get the deal done on a short timeline while minimizing investment risk.
Solar PPA Negotiation on Behalf of Brunswick, ME Nonprofit
In 2016, Verrill worked with The Gathering Place, a nonprofit organization based in Brunswick, Me., in negotiating a solar power purchase agreement with Maine's largest solar installation company. The rooftop solar project was installed on The Gathering Place's newly constructed building and has been powering the building since January 2017. The Gathering Place provides a welcoming space for the community's homeless to gather, socialize, engage in hobbies, and just relax.
Oakhurst Dairy: The Natural Goodness of an Enduring Legacy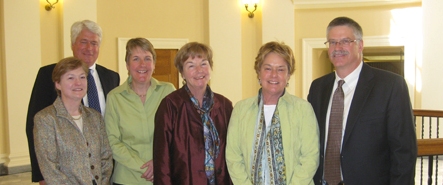 The Bennett Family
L to R: Jean Bennett Driscoll, William P. Bennett, Mary Ellen Bennett Tetreau, Priscilla Bennett Doucette, Althea Bennett McGirr, John H. Bennett
When Stanley T. Bennett opened Oakhurst Dairy in 1921, he laid the groundwork for what would grow to become an iconic multi-generational family-owned business with a reputation for innovation, community service and environmental stewardship. His family successfully ran the business for three generations. In 2013, the family made the decision to sell the company to Dairy Farmers of America, Inc. (DFA), a $12 billion cooperative. A team of Verrill attorneys worked closely with the Bennetts throughout the complex merger negotiations which lasted more than six months and involved multiple potential acquirers. Many legal issues required attention beyond the agreement negotiations, and Verrill had the breadth and depth of experience to take them on. Our team provided counsel relating to federal antitrust review, taxation and benefits issues, intellectual property, environmental permitting and real estate interests.

Oakhurst's numerous dairy products have been a household staple in New England for generations. The Bennett family was thrilled to have the partnership opportunity presented by DFA, with its national presence, complementing culture and values, and financial strength. As a result of the sale, none of Oakhurst's 200 employees lost their jobs, the company will continue to get its milk from the 70 independent Maine farmers who supply Oakhurst's milk, and the integrity of the product will be maintained. Verrill was honored to work with this iconic company in ensuring its legacy will endure and the dairy will remain a vibrant member of the local economy for generations to come.
Blue Sky East: Lease and Easement Negotiations
Our attorneys handled lease and easement negotiations and related project agreements for a proposed 34.2 megawatt wind power project in T16 MD, Hancock County, Maine. We also performed title work and arranged for title insurance and surveys.
Champlain Wind: Lease and Easement Negotiations
Our attorneys provided lease and easement negotiations, fee acquisitions and related project agreements for proposed wind energy project of up to 69.1 megawatts, with associated 5-mile electric generator lead line, in Carroll Plantation (Penobscot County) and Kossuth Township (Washington County), Maine. Additional work on behalf of this client included title work and arranging for title insurance and surveys
Emera's Acquisition of Swan's Island Electric Cooperative
Emera's 2017 acquisition of Swan's Island Electric Cooperative required a multi-disciplined team of Verrill energy lawyers to successfully close the transaction. Because the seller was a member based cooperative, the transaction was structured as an asset purchase, rather than a stock purchase. This required a determination that the Cooperative had marketable title to hundreds of easements, many of which had been acquired by the Cooperative decades earlier. Upon investigation, the parties identified that there were over 200 easements to be acquired or confirmed for Cooperative power lines crossing private property. Tony Calcagni worked with the Cooperative management team for approximately one year to remedy the problems and procure valid deeds to the power line easements.
The acquisition also raised a novel question of utility ratemaking. Because of the high cost of serving the islands, the Public Utilities Commission raised the issue as to whether island ratepayers should pay more than Emera's mainland rates for electricity. In a two to one decision, the Maine PUC rejected the acquisition, finding that charging mainland rates to island customers would result in an unreasonable subsidy of island customers. In response, Bill Harwood and Brian Marshall, renegotiated the terms of the acquisition by including a five-year monthly surcharge on island ratepayers, and were thereby able to convince the Public Utilities Commission to approve the acquisition.
Energy: Assist in Development of Major Solar Farm for Consumer-Owned Utility
In 2015, Madison Electric Works, a consumer-owned electric utility in Madison, Maine, decided to develop a solar farm on land the utility owned next to their headquarters. They called on Verrill to provide legal guidance to facilitate the project's completion. Verrill helped the utility develop an RFP process to secure a vendor, and Madison ultimately awarded the contract to build and run the project to Ohio-based IGS Solar. Verrill advised Madison on the lease agreement for the solar facilities, the purchase power agreement, and the interconnection agreements between Madison Electric Works and IGS. In January 2017, the project was completed and about 26,000 panels covering more than 20 acres are expected to provide nearly 5 megawatts of power to Madison Electric Works and its customers. The new solar farm is currently the largest in the state, more than double the size of the Bowdoin College facility opened in 2014 – which was also developed with the assistance of Verrill's Energy Team.
More information about this project is available in the Portland Press Herald:
Estate Representation: Conservation Easement Amendment
Our attorneys represented an estate in its negotiations to amend a conservation easement on a large ocean front property in Scarborough, ME. They also worked with the Land Trust to negotiate a building envelope on the parcel and other revisions to the easement to provide certainty for future owners and improve the marketability of the property. Other work on behalf of this client included reviewing the zoning ordinance and working with a surveyor on a proposal for an additional lot on a private way. An attorney from the Verrill Real Estate Group met with town staff and obtained a letter from the Town of Scarborough regarding the potential development of an additional lot on a proposed private way that would add additional value to the land in the eyes of a prospective purchaser.

Evergreen Gen Lead: Easement Negotiation and Project Agreements
• Negotiated original easements and related project agreements for 38-mile 115 kV transmission line (currently operational), including easements w/ MEPCO, Eastern Maine Railway Co., Maine Central Railroad Co., Prentiss & Carlisle, Eastern Maine Electric Coop., State of Maine/IF&W, and many others.
• Arranged for title insurance and surveys
• Serve as local real estate counsel for financings:
o July 17, 2009 mortgage loan w/ HSH Nordbank
o Dec. 22, 2009 mortgage loan w/BNP Paribas
Huber Timber LLC
We represented Huber Timber in partition and exchange of fractional interests involving approximately two dozen townships, negotiation of complex partition and exchange agreement, declaration of crossing rights and transfer documentation affecting over 250,000 acres of timberland in Maine.
J.M. Huber Corporation: Timberland Transactions
We represented our client's timberland division in purchase and sale transactions involving approximately 200,000 acres of timberlands. We negotiated agreements and syndication documentation for acquisition of Maine township; negotiated agreements for sales of large tracts of timberlands.
LUPC Ruling Reversal
We obtained a reversal of a 10-year-old Land Use Planning Commission ruling for a Moosehead Lake landowner. The new determination found that the landowner's property was consistent with LUPC rules and allowed the client to convey his family camp to another family member. Without our advocacy, LUPC's position was that the client's property did not meet dimensional requirements and was not saleable. Verrill Dana attorneys also handled the landowner's real estate transactions and probate issues related to the camp, including confirmation of water access rights.
Major Wireless Telecommunications Company: Integration of Acquired Competitor
We represented a major wireless telecommunications company in a reconfiguration of telecommunications infrastructure to allow the integration of recently acquired competitor. We provided leasing, title, environmental and zoning work relating to reconfiguration on expedited basis of approximately 160 telecommunications sites in connection with acquisition of competitor.
Major Wireless Telecommunications Company: Network Build-Outs
We represented a major wireless telecommunications company in network build-outs in Maine. We provided leasing, title, zoning and environmental work associated with acquisition, permitting and build out of 200+ telecommunications sites.
Multi-Disciplinary Representation in Mill Purchase and Regulatory Compliance
We represented the buyer in the acquisition of Domtar Maine LLC, which owns and operates the pulp mill in Baileyville, Maine (also known as Woodland), and continue to represent the mill in regulatory compliance matters. The mill produces about 395,000 metric tons of pulp a year, and is Washington County's largest employer with about 300 employees. It also has significant hydroelectric generating assets, with surplus power being sold to New Brunswick Power.

Verrill acted as co-counsel with O'Melveny & Myers.
Our representation included extensive due diligence and contract negotiation, and we relied upon our extensive experience in real estate, pension and benefits, labor and employment (several unions are involved with the mill), energy (including FERC), environmental law, commercial finance, tax and intellectual property.
Penobscot River Restoration Trust: Project Management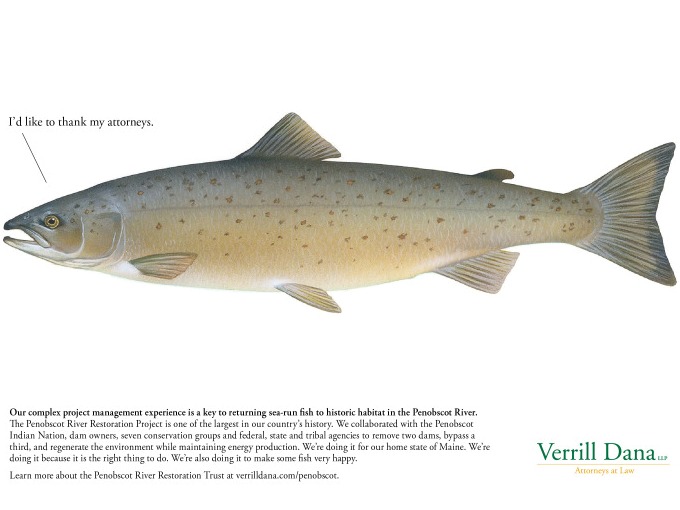 The Penobscot River Restoration Project is one of the largest and most creative river restoration projects in our nation's history. The nonprofit Penobscot River Restoration Trust ("the Penobscot Trust") has worked in collaboration with the Penobscot Indian Nation, seven conservation groups, state and federal agencies, and dam owner Black Bear Hydro Partners LLP, to implement the project to restore 11 species of sea-run fish to the Penobscot River, while also maintaining energy production.* In 2015, the Trust has neared completion of the final stages of this 12-year endeavor. Verrill congratulates all those involved in this historic project.
Successful implementation of the project has revived not only native fisheries but social, cultural and economic traditions of New England's second largest river—the Penobscot. The Penobscot Trust has acquired three Penobscot dams, holds necessary final permits, and is preparing to remove the two closest to the sea – Veazie and Great Works – and construct a fish bypass at the third dam, Howland. At the same time, Black Bear Hydro is, as part of the project, increasing power generation and improving fish passage at several other dams on the river to maintain or increase generating capacity in the system.
Through this reconfiguration of fish migration access and power production, the Penobscot Project has significantly improved access to nearly 1,000 miles of habitat and restore ecological functions of the river while also maintaining hydropower capacity of the river system. Further information regarding this historic project can be found on the Trust's website, www.penobscotriver.org.
Verrill has been pleased to assist the Trust since 2006 with all phases of the restoration project, including drafting of the commercial agreements, national, state and local permitting and regulatory compliance for the decommissioning and removal activities, as well as assistance with strategic planning and dispute resolution. Attorneys from multiple practices, including corporate, real estate, environmental, regulatory, construction, energy and utilities coordinated a multi-disciplinary approach to supporting the Trust's goals and objectives. As a commitment of Verrill to bringing its experience to matters of significant public interest, Verrill contributed extensive in-kind legal assistance to the Penobscot Trust.
* The project has been an uncommonly effective collaboration including PPL Corporation; Black Bear Hydro Partners LLC; Penobscot Indian Nation; the Penobscot Trust, American Rivers, Atlantic Salmon Federation, Maine Audubon, Natural Resources Council of Maine, Trout Unlimited, The Nature Conservancy, federal agencies including the U. S. Department of the Interior [Bureau of Indian Affairs; National Park Service; and U.S. Fish and Wildlife Service (FWS)] and the National Oceanic and Atmospheric Administration (NOAA); the State of Maine including the State Planning Office, Department of Marine Resources and Inland Fisheries and Wildlife; as well as private and public funders; communities; businesses; and numerous others.
Sale of Integrated Process Technologies, Inc. to Lewa-Nikkiso America Inc.
Integrated Process Technologies, a Massachusetts based company specializing in the engineering, design, and manufacture of high purity process systems, and its related entities were acquired by LEWA-NIKKISO AMERICA, INC., a US subsidiary of a Japanese public company, based in California. This transaction involved complex issues including patents, proprietary technology with third party rights, environmental and real estate issues, in addition to the typical due diligence matters involved with an acquisition. Verrill's Business & Corporate Group handled the negotiation of the purchase documents, and the firm's Intellectual Property Group advised on all of the patent issues. Verrill's Environmental, Real Estate, Labor & Employment, and Employee Benefits & Executive Compensation Groups also advised.
Solar PPA Negotiation on Behalf of North Haven Nonprofit
In 2017, Verrill represented North Haven Sustainable Housing in negotiating a solar power purchase agreement with Maine's largest solar installation company. The rooftop solar project is anticipated to be in service by the end of 2017 and will be installed on a newly constructed building on land donated to North Haven Sustainable Housing. The building will serve as housing for the elderly.
TransCanada Maine Wind Development Inc.: Lease and Easement Negotiations
We represented TransCanada Maine Wind Development Inc. in lease and easement negotiations, fee acquisitions and related project agreements for Kibby Wind Power Project, a 132-megawatt wind farm in Franklin County, Maine with associated 25-mile 115 kV transmission line, the largest wind power development in New England. Our attorneys also negotiated easements and related project agreements for proposed Kibby expansion located in Kibby Twp. and Chain of Ponds Twp. (11 turbine expansion accepted by Maine LURC for processing) and arranged for title insurance and surveys.
TransCanada: Wind Power Permitting
We represented TransCanada on the development and permitting of its wind power projects in Maine. TransCanada's first Maine project, the Kibby Wind Project, is a 132 MW wind power project located in the Western Boundary Mountains of Maine, and an associated 27-mile transmission line connecting the project to the electrical grid. Permitting of the Kibby Wind Project required rezoning and environmental permitting before the Land Use Regulation Commission (LURC), which is the zoning and planning body for Maine's more than 10 million acres of unorganized territories. In addition to permitting before LURC, the project required permits from the Maine Department of Environmental Protection, the U.S. Army Corps of Engineers, and selected local permits. When it was completed, the project was the largest operating wind power project in New England. In 2011, TransCanada was awarded the Environmental Business Council of New England's Outstanding Environmental - Energy Achievement Award for the Kibby Wind Project.

We also represented TransCanada in connection with development and permitting of the Sisk Wind Project, a 33 MW wind power project, in close proximity to the Kibby Wind Project. As a result of wind power legislation passed during 2008, the proposed Sisk Project is located in a newly designated "expedited wind permitting area."
Click below to access specific examples of Real Estate experience related to TransCanada.
Water: Secure Land for a New Water Tank
For roughly one year, Verrill worked with longtime client Gardiner Water District, and its engineering firm Wright-Pierce, to secure land to allow the Water District to construct a one million gallon water tank in Farmingdale. The tank, which will help improve water pressure and the future integration of the Gardiner and Hallowell Water Districts, will be located on the former Kennebec Heights Country Club, which property was purchased by Central Maine Power as part of its Maine Power Reliability Program transmission project. The Verrill team helped the District negotiate with Central Maine Power to acquire the land and finalize the terms of the acquisition. The team also helped the District work with the Maine Drinking Water Program, which is financing a portion of the project using State Revolving Loan Funds. On May 5th, the Drinking Water Program hosted a celebration of project, which represented the 200 millionth dollar of funds disbursed through the SRF program. Verrill helped with the planning of the event, which was chronicled by the Kennebec Journal. The final closing took place approximately two months later.