Experience
Verrill Helps Hancock Solar Project Obtain MDEP Permit, Protect Upland Sandpipers
The 14-megawatt Hancock Solar project in the town of Hancock, Maine has obtained its Site Law permit from the Maine Department of Environmental Protection.
Verrill assisted the project with environmental permitting, which included the challenge of locating the 58-acre array entirely on blueberry barrens that function as prime habitat for upland sandpipers, a threatened species under the Maine Endangered Species Act. Verrill helped negotiate a mitigation package that will preserve a large tract of high-value upland sandpiper habitat near the project site. The 311-acre mitigation parcel will ensure continued nesting grounds for the sandpipers in Maine, which migrate every year from South America to breed. It was also the critical and final step in getting the project permitted.
Project construction is expected to begin in April 2021. The Maine Public Utilities Commission estimates that the project will save Maine ratepayers $4.4 million over 20 years. Hancock Solar is a joint venture between Maine-based Dirigo Solar and Dublin, Ireland-based BNRG Renewables.
2014 Emera Distribution Rate Case
In 2014, Bill Harwood and Nora Healy represented Emera in a rate case, in which the Maine PUC approved an 8.68% increase in distribution rates. The case involved numerous intervenors, including the Public Advocate and a number of Emera customers. Significant issues in the case involved depreciation rates, return on equity, extraordinary storm costs, vegetation management expenses, and the allocation of certain costs between distribution and transmission. In a creative resolution, Emera settled the distribution rate case and two pending stranded cost rate cases in a comprehensive, Maine PUC-approved stipulation.
2014 Emera Maine Stranded Cost Rate Case
Nora Healy represented Emera in its 2014 stranded cost rate case for Emera's Maine Public District. New stranded cost rates were expeditiously approved by the Maine PUC in less than three months, thereby delivering a stranded cost rate decrease to Maine PUC customers. Among other things, the case involved the flow through to ratepayers of settlement proceeds resulting from litigation involving spent nuclear fuel storage costs incurred by the Maine Yankee nuclear power plant.
Accounting Orders
Represented Summit Natural Gas in seeking Maine PUC approval of an accounting order to enable Summit to capitalize certain costs associated with its conversion rebate program for commercial customers.
Acquisition Approval
Verrill represented a Connecticut utility in addressing the need for certain regulatory approvals for its acquisition by a large international energy company.
Acquisition Approval
We represented Public Service Company of New Hampshire (PSNH) in a Maine PUC proceeding in which PSNH sought approval for its parent company, Eversource, to acquire a Connecticut water utility, Aquarion Water Company.
Energy: Acquisition of LDC
Verrill assisted with an investment fund with due diligence in regard to potential acquisition of a local gas distribution company. The scope of work included analysis of state regulatory environment for gas utilities and the process for seeking regulatory approval of the potential acquisition.
Acquisition of Paper Mill
Verrill represented an energy developer in its proposed acquisition of the real estate and electric generation assets of a former paper mill. We provided advice on federal and state regulatory laws affecting the client's acquisition and proposed operations, including maintaining Qualifying Facility status and avoiding public utility status at both the state and federal levels.
Affiliate Services
As part of Emera's plans to integrate its newly acquired subsidiary, Tampa Electric, with its existing operating utilities, including Emera Maine, Verrill obtained Maine PUC approval of two affiliate service agreements, permitting Emera Maine to purchase services from its new Tampa affiliate.
Approval of Interstate Natural Gas Pipeline
Approval of Maine's First Private Natural Gas Pipeline
Arbitration of Gas Pipeline Dispute
Represented Woodland Pulp in securing a favorable arbitration award after a lengthy and contentious arbitration proceeding resolving a dispute between Woodland Pulp and a tenant over shared use and "balancing" of a private natural gas pipeline.
Arbitration of Hydro PPA Dispute
Represented a Maine utility in arbitratiion of a contractual dispute between the utility and a hydro facility owner arising under a long-term power purchase agreement. After a lengthy hearing, the arbitrator ruled in favor of the utility, finding that, even though the full output PPA provided only a single MWh price and referred only to energy sales, the utility purchased both the energy and capacity available from the hydro facility.
Energy: Assist Natural Gas Pipeline Company in Maine PUC Proceeding to Select a Provider of Natural Gas Capacity into New England
Since early 2014, our firm has successfully represented a large interstate pipeline company before the Maine PUC in advancing two significant new interstate pipeline expansion projects. The larger of the two projects was designed to provide a firm and reasonably priced source of fuel for natural gas-fired generators providing electricity to consumers in Maine and New England. The Maine PUC is charged with implementation of the Energy Cost Reduction Act, a 2013 law (in which the firm was actively involved) that authorizes the State to direct execution of a contract for new natural gas pipeline capacity. The so-called energy cost reduction contract, or ECRC, will provide financing for up to $75 million per year upon a finding that the contract's benefits will outweigh its costs and that the contract is commercially reasonable and in the public interest.

After more than two years of extensive litigation, the Maine PUC selected our client's project in July 2016 as the best option for an ECRC, and directed Maine's transmission and distribution utilities to negotiate and execute of a contract for capacity on this project. The ECRC, which will be conditioned on regional participation on the project, and will enable the development of additional pipeline capacity needed to increase the availability and supply of natural gas into New England.

Verrill has guided the project through every stage of this extensive MPUC litigation, including researching, drafting, discovery, witness examination, filing briefs, motions, and testimony, and developing a successful strategy.
Bangor Hydro: Certificate of Public Convenience and Necessity for Downeast Reliability Project
The Maine PUC granted Bangor Hydro Electric Company a Certificate of Public Convenience and Necessity (CPCN) for the construction and operation of a 115 kV electric transmission line in Washington County, Maine known as the Downeast Reliability Project. The transmission line is 42 miles long, and the project included a new electric substation, resulting in a total project cost of approximately $68 million. The line created a needed "loop" in Downeast Maine to supplement an existing single radial line, and increased reliability and capacity in the area to address coastal load growth and reliability. Nora Healy handled the CPCN proceeding for Bangor Hydro.
Bingham Wind Project
Verrill's environmental team successfully permitted the Bingham Wind project, which at 185 MW is the largest wind power project in New England. The project includes fifty-six 3.3 MW Vestas turbines, a transmission line, an O&M building, meteorological towers, and access roads and crane paths, which collectively required permits from the Department of Environmental Protection, the Army Corps of Engineers, and the towns of Bingham, Parkman and Abbott. Verrill continues to work with the project owner to ensure the long-term success of the project.
Bowdoin College Solar Power Generation Project
In 2014, Verrill represented Bowdoin College in securing municipal approvals to install an underground electric distribution line to serve the College's new 1.2-megawatt, 4500-panel solar generating project, the largest solar development—by a factor of seven—in the State at the time. Verrill attorneys also advised on the project's real estate issues.
Certificate of Public Convenience and Necessity for Northern Maine Interconnection
In 2014 and 2015, Verrill Dana represented Emera Maine before the Maine PUC in Emera's request for a Certificate of Public Convenience and Necessity (CPCN) for Emera's proposed 138 kV transmission line, providing a new interconnection between the Northern Maine electric system and the New Brunswick, Canada system. Emera proposed the line to address reliability concerns regarding the ability of the Northern Maine transmission system to meet customer demand under peak load conditions.
Certifications and Approvals for Pittsfield Solar, Which Will Be Largest Solar Farm in Maine When It Goes Into Service
In 2017, Verrill Dana represented Cianbro Development Corp. subsidiary Pittsfield Solar, LLC in obtaining regulatory approvals for a 9.9-megawatt ground-mounted solar array to be located on 54 acres in Pittsfield, Maine. Verrill helped Pittsfield Solar obtain community-based renewable energy project certification from the Maine Public Utilities Commission ("PUC"), Maine PUC approval for waivers relating to the interconnection and power purchase agreements between Pittsfield Solar and Central Maine Power Company, and Renewable Portfolio Standard certification. These processes involved critical negotiations with both the regulator and the utility. When fully in service, Pittsfield Solar will be the largest solar project in Maine by a factor of two. The first phase of the project will go into service in December 2017, while the remainder will go into service by spring 2018.
Champion of Wind Energy Projects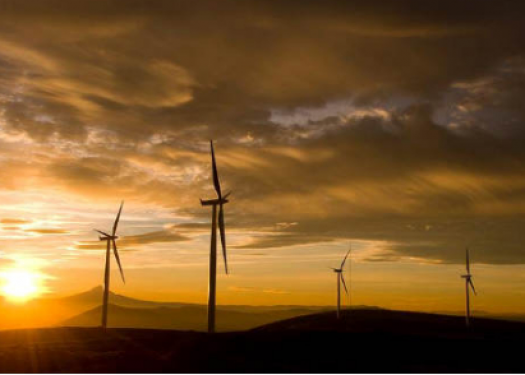 Verrill successfully permitted eleven wind power projects in Maine with an installed capacity of more than 1,000 MW. The team shepherded projects through the Land Use Regulation Commission, Department of Environmental Protection, Army Corps of Engineers, and multiple towns where project elements are located.
In the Bingham Wind project, Verrill permitted a 17 mile generator lead line that traversed organized and unorganized jurisdiction in Maine. The permits included a federal Army Corps of Engineers Section 404 permit, Maine Department of Environmental Protection Site Law and NRPA permits, as well as several local permits.
In the Saddleback Ridge Wind project, Verrill assisted Patriot Renewables in permitting 9.5 miles of generator lead in the towns of Carthage, Dixfield and Canton, Maine. The permits included a federal Army Corps of Engineers Section 404 permit, Maine Department of Environmental Protection Site Location and NRPA permits, utility location permits from the Maine DOT and the Town of Carthage, and a building permit from the Town of Dixfield.
Champlain Wind: Lease and Easement Negotiations
Our attorneys provided lease and easement negotiations, fee acquisitions and related project agreements for proposed wind energy project of up to 69.1 megawatts, with associated 5-mile electric generator lead line, in Carroll Plantation (Penobscot County) and Kossuth Township (Washington County), Maine. Additional work on behalf of this client included title work and arranging for title insurance and surveys
Change of Control of Emera Maine
Verrill represented Emera Maine, and its affiliates Chester SVC Partnership and Maine Electric Power Company (the "Utilities"), before the Maine PUC with respect to the Utilities' request for Commission approval of the change of control of Emera Maine resulting from ENMAX Corporation's (an Alberta, Canada utility) proposed acquisition of Emera Maine. The case involved many parties, with diverse interests; voluminous discovery; and application of a new "net benefits" legal standard to the Commission's decision.
Defending Arbitration Award
Verrill represented Woodland Pulp before the Maine Supreme Judicial Court in successfully defending an arbitration award after a lengthy, contentious arbitration proceeding resolving a dispute between Woodland Pulp and a tenant over shared use of a private natural gas pipeline.
Defending Constitutionality of the Wind Energy Act
Verrill successfully defended permits in which the constitutionality of the Wind Energy Act was challenged as well as numerous decisions involving the interpretation and application of sound and scenic standards that govern wind energy developments.
Defending Constitutionality of the Wind Energy Act
Verrill successfully defended permits in which the constitutionality of the Wind Energy Act was challenged as well as numerous decisions involving the interpretation and application of sound and scenic standards that govern wind energy developments.
Emera's Acquisition of Swan's Island Electric Cooperative
Emera's 2017 acquisition of Swan's Island Electric Cooperative required a multi-disciplined team of Verrill energy lawyers to successfully close the transaction. Because the seller was a member based cooperative, the transaction was structured as an asset purchase, rather than a stock purchase. This required a determination that the Cooperative had marketable title to hundreds of easements, many of which had been acquired by the Cooperative decades earlier. Upon investigation, the parties identified that there were over 200 easements to be acquired or confirmed for Cooperative power lines crossing private property. Tony Calcagni worked with the Cooperative management team for approximately one year to remedy the problems and procure valid deeds to the power line easements.
The acquisition also raised a novel question of utility ratemaking. Because of the high cost of serving the islands, the Public Utilities Commission raised the issue as to whether island ratepayers should pay more than Emera's mainland rates for electricity. In a two to one decision, the Maine PUC rejected the acquisition, finding that charging mainland rates to island customers would result in an unreasonable subsidy of island customers. In response, Bill Harwood and Brian Marshall, renegotiated the terms of the acquisition by including a five-year monthly surcharge on island ratepayers, and were thereby able to convince the Public Utilities Commission to approve the acquisition.
Energy: Energy Aggregation
We advised Maine Power Options (MPO), the energy aggregation arm of two quasi-state agencies, Maine Bond Bank and the Maine Health and Higher Education Facilities Authority, with regard to developing and administering a procurement process by which MPO selects an electricity marketer to supply MPO members. Verrill provides ongoing support to MPO with respect to the procurement process and energy contracting.
Energy: Assist in Development of Major Solar Farm for Consumer-Owned Utility
In 2015, Madison Electric Works, a consumer-owned electric utility in Madison, Maine, decided to develop a solar farm on land the utility owned next to their headquarters. They called on Verrill to provide legal guidance to facilitate the project's completion. Verrill helped the utility develop an RFP process to secure a vendor, and Madison ultimately awarded the contract to build and run the project to Ohio-based IGS Solar. Verrill advised Madison on the lease agreement for the solar facilities, the purchase power agreement, and the interconnection agreements between Madison Electric Works and IGS. In January 2017, the project was completed and about 26,000 panels covering more than 20 acres are expected to provide nearly 5 megawatts of power to Madison Electric Works and its customers. The new solar farm is currently the largest in the state, more than double the size of the Bowdoin College facility opened in 2014 – which was also developed with the assistance of Verrill's Energy Team.
More information about this project is available in the Portland Press Herald:
Energy: Merchant Transmission Line
Our client, a merchant transmission line developer, had site control over the former Maine Yankee Nuclear Plant. It proposed to establish a submerged, merchant transmission line to Boston from the Wiscasset property. Working with a lobby team at Maine Street Solutions, we provided legal counsel and negotiated an important exclusion from a pending legislative matter to allow this proposed development to proceed.
Favorable Net Energy Billing Legislation
In 2015, we helped Emera Maine work with multiple stakeholders to pass legislation requiring the Maine PUC to facilitate an examination of alternatives to net energy billing to support solar energy development in Maine. To accomplish this goal, we successfully argued to legislators and other government officials that they should not adopt a half dozen other bills that would have raised electric rates in order to subsidize the cost of solar generation in Maine.